Mavado sends an emotional message to his son who is now in jail awaiting trial.
The Gullyside singer took to Instagram earlier this week to share an old photo of himself and his son when he was much young. "Love you son," he wrote in the caption. Mavado has been getting a lot of criticisms on social media from dancehall fans for leaving Jamaica leaving his son behind to face a murder charge. The 16-year-old was charged with murder, conspiracy to commit murder, arson, and illegal possession of a gun and ammunition.
Mavado teenage son is currently locked up in a juvenile detention center and was denied bail when his attorney appeared in court last week. Vado is still overseas, and there is no clear indication yet if and when he will return to the island. Some fans are still of the view that the singer should return to support his son who is in some severe legal troubles. If convicted, he could be sent to prison for life.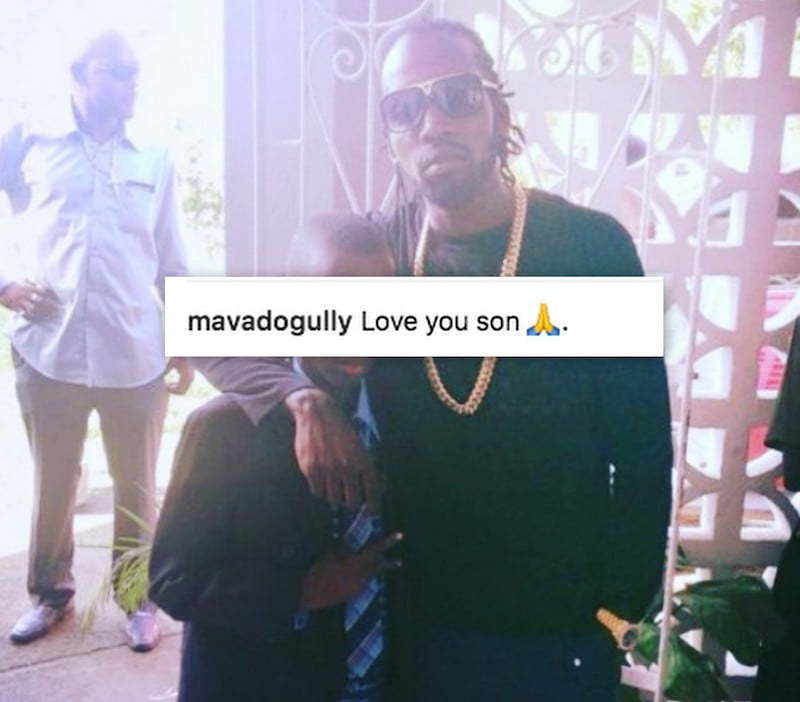 Mavado, whose real name is David Brooks, fled Jamaica last month just days after he was shot at in Cassava Piece over a domestic dispute involving his son and another man. A few days after the shooting incident, one man, Lorenza Thomas, was killed in a gruesome attack at his home in the community. Police say his killing was a reprisal for the shooting incident involving Mavado.
The singer's son and another man, 23-year-old Andre Hinds, are both facing murder charges for Thomas's death. Cops say they have text messages showing the teenager ordering the hit on Thomas where he told Hinds to behead the 22-year-old. Lawyers representing the accused told us that he vehemently denied the allegations and Mavado vows to fight for his son's life to the very end.
Urban Islandz will keep you posted on any developments in the case.