Vybz Kartel will not be featured on XXXTentacion album.
The Florida rapper reveals the tracklist for his debut album "?" which is set for release on March 16. Before he made the announcement on Monday, a leaked tracklist surfaced showing a song with Vybz Kartel titled "Through The Night." A rep for Kartel confirmed with Urban Islandz that the song is a fake and he will not be featured on XXXTentacion's album. "Song is a fake there is no collaboration with X and Vybz Kartel on his album," the dancehall deejay's rep told us.
"He already provide the official tracklist and as you can see there is no Kartel collaboration on that," his rep added. "These are two artists who are fans of each other so you never know if there will be a collab in the future, but as far as I know there is none right now."
In January, XXXTentacion announced on IG that he has a song coming with Vybz Kartel, but seems that never materialized, or perhaps the idea was shelved. "Vybz Kartel featuring XXXTentacion, coming soon, lol only the Jamaicans and Hispanics know what i'm talking about!" he wrote while hinting that he would be the guest on a VK single.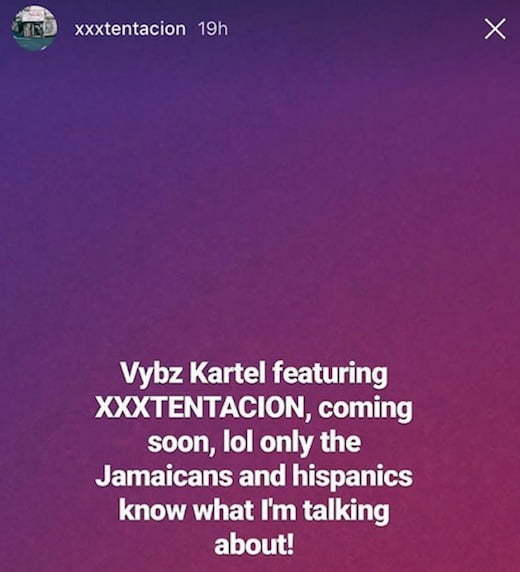 XXXTentacion and Vybz Kartel are two polarizing artists with a lot of legal troubles. While the dancehall deejay is currently serving a life sentence for murder, X could be on his way to prison for assaulting and kidnapping his pregnant ex-girlfriend. The "Look At Me" rapper is currently under house arrest and has to wear an ankle monitor while he awaits trial. On the other hand, the "Fever deejay is getting ready for his next big legal showdown in the Jamaican justice system. His appeal trial is set for July of this year. This will be his final chance to secure his freedom.