XXXTentacion has revealed the real tracklist for his upcoming album "?" moments after a fake tracklist was leaked online.
On Monday, someone posted a tracklist for XXXTentacion's debut LP, but it turns out that was a fake. The Lauderhill rapper then posted the real tracklist on his Instagram Stories showing a total of 18 tracks and guest features from a handful of artists including Travis Barker, PnB Rock, Matt OX, and Joey Bada$$. The project features the previously released singles "SAD!" and "Changes."
The album "?" will arrive this Friday, March 16 and will mark the first body of work from the controversial rapper. XXXTentacion has had a tumultuous year last year from beefing with other rappers to his ongoing legal troubles. In June of last year, he was knocked out on stage by rival rappers during a performance in San Diego. He also raised some eyebrows for his beef with Drake. Last but not least, X has been getting a lot of resistance from some fans for his legal troubles.
The polarized rapper is currently facing a number of serious charges that could put him away behind bars for a long time. He is being charged with assault and kidnapping of a pregnant woman, as well as, more than a dozen charges of witness tampering after he called his victim, who is his ex-girlfriend, from jail and attempted to coerce her to drop the charges.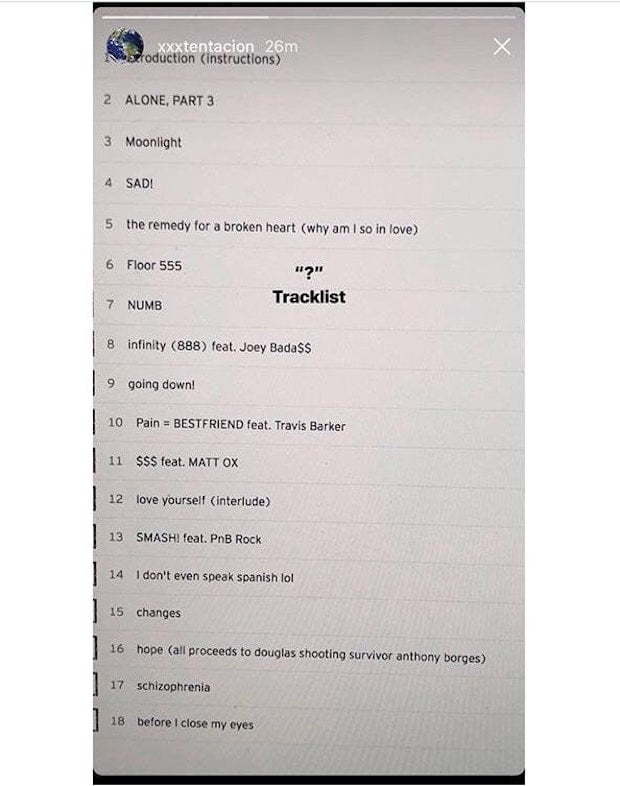 ? tracklist.
1. Introduction (Instructions)
2. Alone, PART 3
3. Moonlight
4. SAD!
5. the remedy for a broken heart (why am I so in love)
6. Floor 555
7. NUMB
8. Infinity (888) ft. Joey Bada$$
9. going down!
10. Pain = BESTFRIEND ft. Travis Barker
11. $$$ ft MATT OX
12. love yourself (interlude)
13. SMASH! ft. PnB Rock
14. I don't even speak spanish lol
15. changes
16. hope (all proceeds to douglas shooting surviror anthony borges)
17. schizophrenia
18. before I close my eyes