XXXTentacion and Vybz Kartel on the same track should be fire.
The South Florida rapper, who previously claimed he has some Jamaican roots, announced on Instagram last night that he has a collaboration coming out with the incarcerated dancehall star. Rappers wanting to collaborate with Vybz Kartel is nothing new and in fact, over the last few months, we've heard rumors of artists like Drake and Cardi B wanting to get the World Boss on a track. The difference here is that this announcement is coming directly from the artist and not some unnamed source tipping off the media.
"Vybz Kartel featuring XXXTentacion, coming soon, lol only the Jamaicans and Hispanics know what i'm talking about!" X wrote on IG stories. XXXTentacion worked with Sizzla Kalonji on his "My Girl" single last year, but if this new single materialized, it will be the first time the "Look At Me" rapper and Vybz Kartel are working together.
Last year XXXTentacion blast Drake for tapping into dancehall for his last two albums saying that he is way more Jamaican than Drake claims to be because his family is mostly from Kingston. There could be some truth to the story since X is from Lauderhill in South Florida where there is a strong Jamaican contingent.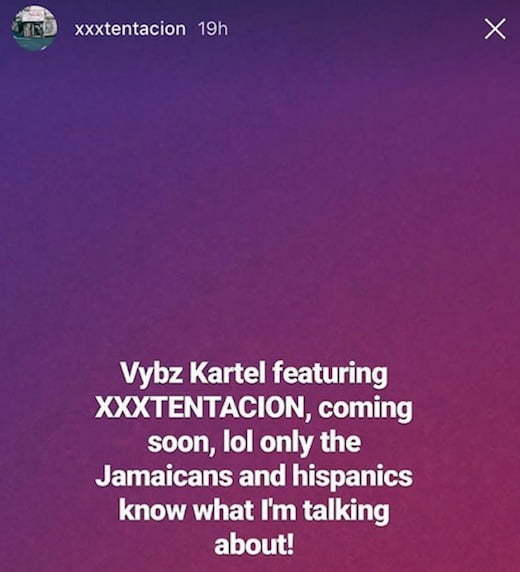 Vybz Kartel is currently serving a life sentence for murder but is still putting out a ton of new music from behind bars. XXXTentacion currently has a mountain of legal troubles and is currently under house arrest while he awaiting trial for kidnapping and assaulting a pregnant woman. In December, he was slapped with 15 new charges for tampering with a witness when he defied court orders and contacted his ex-girlfriend who is the victim in his case. Like Vybz Kartel, X is facing some serious time behind bars if he is found guilty of the charges.