Nicki Minaj told her fans, aka Barbz, that her new album is beyond good, but in more explicit terms.
Last month, the Trinidadian rapper told her fans that she is working hard to deliver the new album after they started complaining about it on social media about the forthcoming project. To put things into perspective, the last time Nicki Minaj released an album was in 2014 when she released The PinkPrint. So you can understand why her fans are so hungry for her next body of work.
Nicki was spotted in NYC on Monday night leaving the Philipp Plein fashion show at New York Fashion Week. She was peppered with questions from photographers and her fans. "I love you and I adore you," she said, before adding, "Oh, the album. Oh my God! The album is so f***in' good!" By that time everyone became hyped up and she turned around and went into her Maybach. This could just be another way of keeping her fans interested while she quietly works behind the scenes on the project.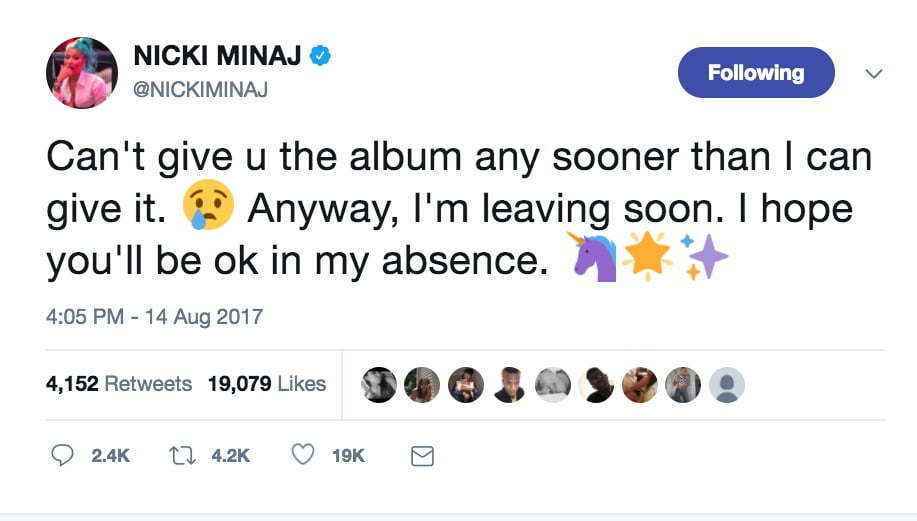 Back in June, Nicki Minaj also spoke about the album saying she plans on delivering a classic and what she dubbed her best album to date. One thing is certain as of now, we still don't have a release date nor a title for the project. There was some chatter that she would be injecting some dancehall influence into her new album, but so far no definitive details on the direction of the project are available. A lot has happened in Nicki Minaj life since her last album, like dating and then breaking up with Meek Mill, her beef with Remy Ma, and her rumored relationship with Nas. So she should have plenty of material to rap about on an entire album. Or perhaps she could take a page out of JAY-Z's book and go the smart route.
In response to her fans on Twitter when asked about the album, she wrote, "Can't give u the album any sooner than I can give it. Anyway, I'm leaving soon. I hope you'll be ok in my absence."
https://twitter.com/NMLite/status/906782872757043201