Nicki Minaj fans have been making their voices louder calling for her to release her new album but she is giving them more of her ass-ets.
The Young Money rapper has been doing a lot features this year and has been getting a lot of success on the charts from those guest spots from artists like Future, Yo Gotti, Jason Derulo, and Gucci Mane. Seems Nicki Minaj fans want more than that, they want her to release her fourth album which she has been working on for the past year.
Over the past week, she has been posting a lot of smoking hot photos showing off her famous ass-ets on Instagram. Some fans are saying, while that is nice we need that album asap. "You have time to posted pics of your buns but where is that album we been waiting for four years," one fan explicitly said on Twitter, while another added, "All we getting is more of buns and pics where is the album you promise from last year, when you were with Safaree at least you put out your album faster."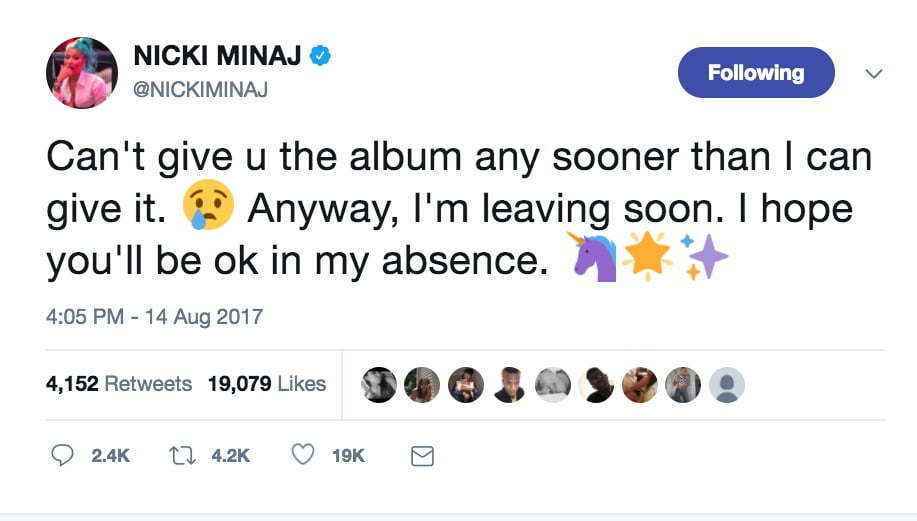 Seems that the last comment triggered a response from Nicki Minaj who tweeted out saying that she is hard at work on the project and fans will just have to wait. "Can't give u the album any sooner than I can give it. Anyway, I'm leaving soon. I hope you'll be ok in my absence," she tweeted with a crying emoji. To give Nicki Minaj some credit, earlier this year she did mention that she is trying to deliver a classic album so perhaps she needs the extra time to put that classic LP together.
In the meantime, Nicki Minaj fans can feast their eyes on her ass-ets on her Instagram page while they wait patiently to feast their ears on her upcoming project. The last time that we got an album from the Trinidadian rapper was The Pinkprint which was released on December 15, 2014. That project sold 244,000 copies in the first week to debut at number one on the Billboard 200. The album has since been certified double platinum by the Recording Industry Association of America (RIAA).