There is almost no chance of a reunion between Karrueche Tran and Chris Brown. The two exes clash on Instagram last week, just days after the R&B singer released a song "Back To Sleep (Remix)" where he begged her to get back with him.
After this latest clash between the two its safe to say that there is no chance of reconciliation.
Karrueche Tran is saying that Brown is just a bitter ex who can't get her back so he resort to bashing her.
Rihanna Calls Chris Brown & Karrueche Fight Petty and Laughable
"He (Chris Brown) can't get her back so he do what he does best take out his anger on her," sources close to Tran said. "He can't get back Rihanna and he can't get back Karrueche so he resort to bashing them and let his fans troll them on social media."
"If that is not the case of a bitter ex then I don't know what is," sources revealed. "Karrueche still love and care about him but she will never get back with him unless he change his attitude and deal with his anger."
During his rant on IG last week, Brown sarcastically depict Karrueche Tran as someone with no talent and that all her films went straight to DVD.
"I wish u the most successful career ever," the "Zero" singer wrote. "But I promise you this, once this 'TALENT' you have starts to simmer, so will everyone else including Jacob. all of your famous friends know u how?"
Breezy also name dropped Karrueche Tran in his "Back To Sleep (Remix)" single with Usher and Zayn.
"You want me to say your name girl? / Okay, Karrueche!" he sings.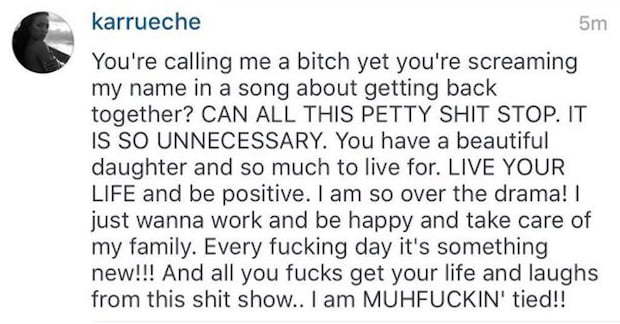 Seems Chris Brown didn't take notes from Robin Thicke that that will end disastrous.
"You're calling me a bi**h but screaming my name in a song about getting back together?" Tran responded.
Chris Brown has since deleted the posts but we have a screenshot.
The case of the bitter ex. Sound off in comments below.