Chris Brown and Karrueche Tran have reignited their breakup feud.
Seems that stunt that Breezy pulled by mentioning Karrueche Tran's name in his recent single "Back To Sleep (Remix)" did not work out too well for him.
On Friday the ex-couple exchanged a few harsh words for each other on Instagram. The feud started when Chris Brown took a jab at Karrueche's manager Jacob York.
Karrueche Still Giving Chris Brown Cold Shoulder Despite Plea In New Song
Breezy spotted a photo of one of York's clients wearing one of his Black Pyramid T-Shirts and reported it on Instagram with the caption, "Hey…. I know that shirt. ? @jacobyork fat as is gonna have a speech for you. I respect the support."
Seems Breezy and Tran got into some sort of heated argument since that post that spilled over to social media.
"I wish u the most successful career ever," Brown wrote on IG. "But I promise you this, once this 'TALENT' you have starts to simmer, so will everyone else including Jacob. all of your famous friends know u how?"
Karrueche shot back saying that she is over the drama.
"You're calling me a bi**h but screaming my name in a song about getting back together?" Tran wrote. ""CAN ALL THIS PETTY SHIT STOP. "IT IS SO UNNECESSARY. You have a beautiful daughter and so much to live for. LIVE YOUR LIFE and be positive. I am so over the drama! I just want to work and be happy and take care of my family. Every fu***** day its something new."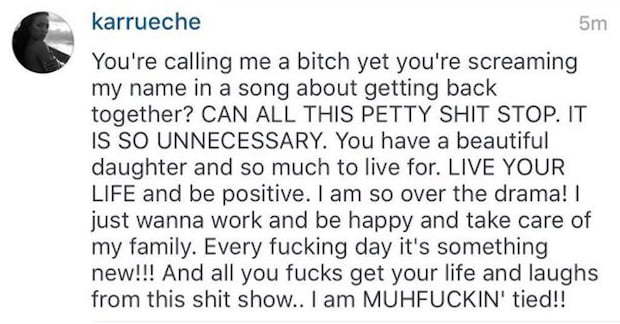 Both Karrueche Tran and Chris Brown has since deleted the posts on Instagram as if nothing happened. But not before we got a screenshot of the fiery exchange.
Rihanna is somewhere in a corner doing her hair and laughing with her friends right now.
Karrueche Tran ended the exchange by posting a photo of herself with the caption, "okay bye."
Listen Chris Brown "Back To Sleep (Remix)" featuring Usher and Zayn Malik below.
Check out some of the lyrics for the single.
"Now where you been, it's been a year / Baby I ain't seen you, you know I miss you / Baby let me love you back to sleep once more… / But I just wanna tell you I'm sorry / For f****in' round with Keisha and MaKayla / For all the Georgia peaches in Decatur / For all these b*tches in the elevator / I just want you to love me/ Yeah baby don't test me/ You know I'll do it," Brown sings.
"You want me to say your name girl? / Okay, Karrueche!" he sings in another verse.