Rihanna and her friends are having a field day with Chris Brown and Karrueche Tran fighting on social media.
On Friday, Brown and his ex-girlfriend Karrueche Tran both took a swipe at each other on Instagram. This comes just a few weeks after the R&B singer name dropped her in his new single "Back To Sleep (Remix)."
Chris Brown and Karrueche Tran In Bitter Feud On Instagram
Sources close to the Bajan pop star told Urban Islandz that she was having a big laugh over it and think that its just petty.
"It was some much needed humor during rehearsals last night," sources told us. "She (Rihanna) think that they are both petty and deserves each other. She just laugh about it and some of them made a few jokes about it. We all know that he is bipolar so this type of acting out is not surprising. I guess you can say that she is happy to be outside of that situation and away from all that drama."
Rihanna is currently getting ready to hit the stage tonight for her ANTI world tour opening in Jacksonville, FL.
Both Chris Brown and Karrueche Tran have since deleted their posts on Instagram but not before he grabbed a screenshot of the heated exchange.
"I wish u the most successful career ever," Chris Brown said. "But I promise you this, once this 'TALENT' you have starts to simmer, so will everyone else including Jacob. all of your famous friends know u how?"
Breezy seems to be blaming the breakup with Karrueche Tran on her now manager Jacob York. But Tran is calling that BS and is calling him out for having a child outside of their relationship.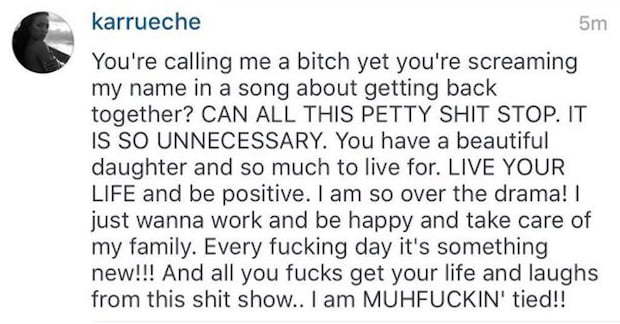 Rihanna and Chris Brown have not spoken to each other in over a year. Sources told us that they are not on speaking terms and that the "Work" singer has long moved on with her life.
"She has definitely moved on and is in a much happier place right now," sources said. "I think looking back she is happy that she is out of that situation and all that drama."
Share count: 578