Nicki Minaj has a new man and he is not Jewish or a DJ, he is Philly rapper Meek Mill.
Details about their relationship are beginning to leak slowly and there could be some truth to it.
On Monday Nicki Minaj celebrated her 32nd birthday and she posted a photo on Instagram of a very expensive piece of jewelry that she got as a gift from someone that she didn't name. The whole Pauly D rumor was a big joke.
"Thank u," she captioned the photo.
Urban Islandz sources close to the Trinidadian rapper told us that Meek Mill was the one who bought the diamond bracelet for her and that she was blown away when he gave it to her.
The source told us that they have been seeing each other on the low for months now and that he was part of the reason why she and Safaree Samuels broke up.
"No one really know about this except those in her inner inner circle, but yes Nicki Minaj and Meek Mill have been close for a while before they decided to take things to the next level," the source revealed.
"Meek bought her a very expensive bracelet for her birthday and that melted her heart, because it's been a while since a guy show her so much love and attention. Nicki really like Meek, she thinks he is very sweet and hot," the source added.
You can also recalled that Nicki Minaj was the only female celebrity who visited Meek Mill while he was locked down behind bars for six months.
A day after she celebrated her birthday, Nicki leaked a new song with the Maybach Music Group rapper titled "Big Daddy."
The song is featured on Nicki Minaj upcoming album The PinkPrint. Nicki Minaj and Meek Mill also collaborated on another song titled "Buy A Heart" that is featured on the album.
The source told us that Meek originally recorded "Buy A Heart" before giving it to Nicki Minaj.
"Meek recorded "Buy A Heart" a while back and one day he played it for Nicki in the studio and she immediately fell in love with it," the source said.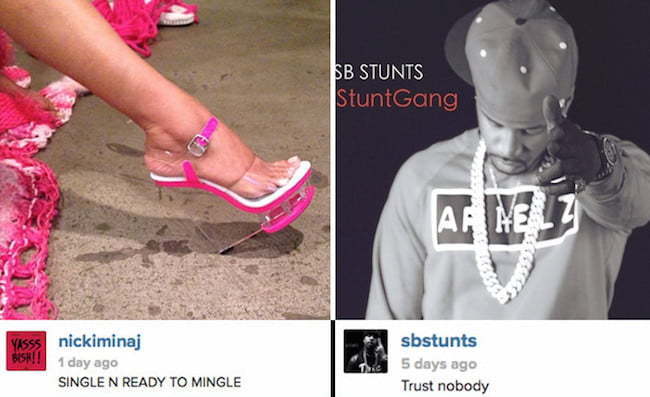 Our source also told us that Meek Mill is one of the main reasons for Nicki Minaj and her ex-boyfriend Safaree breakup.
"SB thought that Nicki was creeping with Meek for a while but she wasn't, he was that type of guy who offered a shoulder to learn on, he genuinely cared about Nicki and that's how their relationship blossom," the source added.
Nicki Minaj is a very private person so I am surprised that this tea is leaking out. But when your a celebrity very rarely anything is kept secret in your circle.
Sorry Drake your still in the friend zone.
Do you think Nicki Minaj and Meek Mill make a good couple?