Nicki Minaj release the official tracklisting for her highly anticipated new album The PinkPrint.
There are a bunch of big name artists featured on the album including Beyoncé, Lil Wayne, Drake, Ariana Grande, Chris Brown, Meek Mill, Skylars Grey, Jeremih, and more.
SEE ALSO: WATCH: Trey Songz Ft. Nicki Minaj – Touchin, Lovin' (video)
The album features 19 tracks including the four she already reelased, "Pills and Potions," "Anaconda," "Only," and "Bed Of Lies."
Nicki Minaj has already started the countdown for the December 15, release date for The PinkPrint.
The album was executive produced by Dwayne "The President" Carter, "Bryan "Baby Birdman" Williams, and Ronald Slim Tha Don" Williams.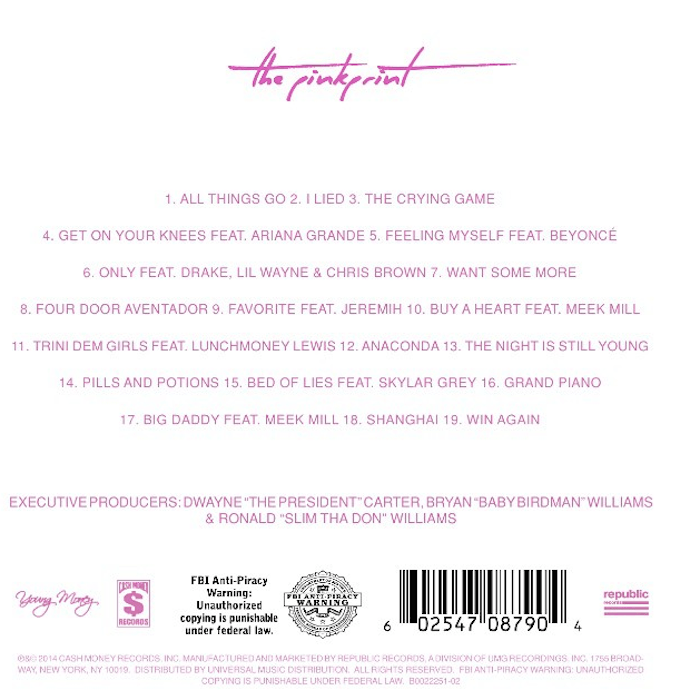 See The PinkPrint tracklisting:
01 All Things Go
02 I Lied
03 The Crying Game
04 Get On Your Knees ft. Ariana Grande
05 Feeling Myself ft. Beyoncé
06 Only ft. Drake, Lil Wayne, & Chris Brown
07 Want Some More
08 Four Door Aventador
09 Favorite ft. Jeremih
10 Buy A Heart ft. Meek Mill
11 Trini Dem Girls ft. Lunchmoney Lewis
12 Anaconda
13 The Night Is Still Young
14 Pills and Potions
15 Bed of Lies ft. Skylar Grey
16 Grand Piano
17 Big Daddy ft. Meek Mill
18 Shanghai
19 Win Again
The hottest single off the album is "Anaconda" watch.