Nicki Minaj has been dominating social media and hip-hop airwaves over the last few weeks.
The Young Money rap diva was featured on Jessie J's "Bang Bang" single and also Beyonce's "Flawless (Remix)."
SEE ALSO: Lil' Kim Dissing Nicki Minaj Again On "Identity Theft", Why Nicki Should Respond
SEE ALSO: Remy Ma Want To Work With Nicki Minaj, Iggy Azalea [Interview]
Nicki also amp things up when she dropped her second single "Anaconda" off her upcoming album The Pink Print. The video for that single is expected to make it's debut next week.
Since dropping "Anaconda", Nicki Minaj has been busy doing a few press runs including a stop by Hot 97 "Morning Show."
The "Anaconda" rapper says when she learned about Beyonce's offer to remix "Flawless" she was very surprised.
"Gee [Roberson] (Nicki manager) called me when I was on my way to Vegas and he said, 'Beyoncé wants you to remix 'Flawless.' And after I got proper medical help and started breathing again, I was like, 'What?' And she sent me a version that she wanted. She told me that I want you to be you, I don't want you to hold back. I said, 'You sure?' And she was like, 'Yeah, I want you to just be you and do you.' I was actually in New York writing the verse. I recorded the verse in New York and she stopped by the studio and she was such a sweetheart. She was hyping me up like, 'Do your thing. Don't hold back. Go in.' And I said, 'OK. All right.' We've just been waiting for her to drop it. She told me that she would drop it sometime while she was in the middle of the tour. I wrote the verse before she even went on tour. And that's basically how that happened and we've just been going back and forth. I've been sending her pictures of myself and we've been going back and forth about the mixes and the single art and now here you have it."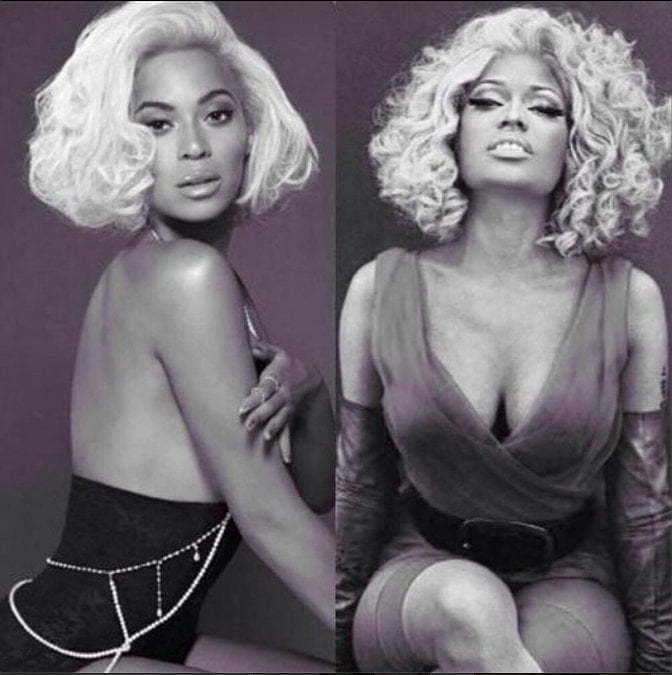 Nicki Minaj share her thoughts on collaborating with female rapper Remy Ma, who was released from prison last week.
"I told you guys before Remy even came home, I said I would love to. I was a fan of hers before she went to jail and nothing has changed. I've always felt like she was at the top of her game and in relation to all the MCs in the game I always felt like she was sitting there at the top. We'll see. I'm not crossing that off. I feel like we'll get the right thing and we'll do it for the people. It's open up in the air."
Check out the full interview below.