Vybz Kartel and his legal team have made good on their promise to file an appeal in the Court of Appeal on Tuesday.
The embattled dancehall star and his three co-convicts file the appeal claiming that they got an unfair trial in the Home Circuit court.
SEE ALSO: Was Shawn Storm On Vybz Kartel Death List Over Missing Guns ?
According to official court documents obtained by Urban Islandz, Vybz Kartel, real name Adidja Palmer, Shawn "Storm" Campbell, Andre St. John, and Kahira Jones based their appeal on the ground that they got an unfair trial, miscarriage of justice, misidentification by witness, and lack of evidence.
Read Vybz Kartel full grounds of appeal below:
* Unfair trial: That the evidence and testimonies upon which the learned trial judge relied to direct the jury and subsequently led to my conviction lacked facts and credibility, thus rendering the verdict unsafe in the circumstance.
* Lack of evidence: during the trial the prosecution failed to present the court any form of substantive material evidence, that is, scientific material, or DNA evidence to link me to the alleged crime.
* Misidentified by witness: That the main prosecution witness wrongfully identified me as person or among any persons who committed the alleged crime.
* Miscarriage of justice: That based on the evidence in respect of a time date, the court failed to recognise the fact that I could not have committed the alleged crime.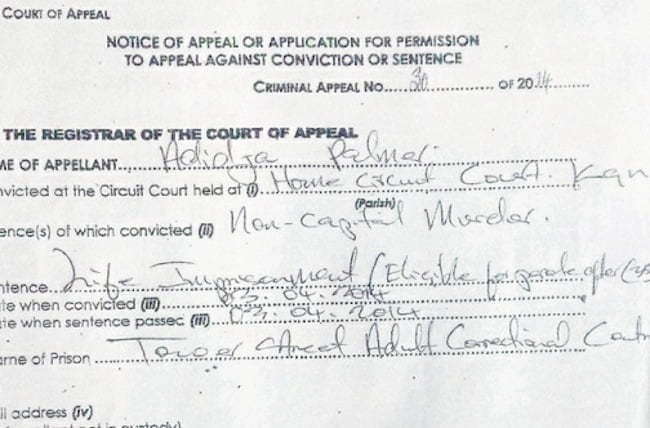 The four men were convicted on March 13, 2014 for the August 16, 2011 murder of Clive "Lizard" Williams.
Jamaica's High Court judge Justice Lennox Campbell handed down a life sentence on all four men on April 3, 2014.
Vybz Kartel will be eligible for parole in 35 years when he is 73 years old. His protege Shawn Storm and close friend Kahira Jones will be eligible for parole in 25 years, while Andre St John will have to wait 30 years before being eligible for parole.
The high profile murder trial was marred by police corruption and evidence tampering. But there were also alleged corruption on the part of the defense after a juror was caught trying to bribe the foreman with $500,000.
The accused juror has since being charged and has express his innocence.