The main witness for the state in Vybz Kartel murder trial will not be taking the stand.
The alleged witness, whose name is not known, is either in hiding or refusing to cooperate with the state to testify against Vybz Kartel.
Earlier this year, Vybz Kartel penned a letter from behind bars that was later released to the public. In the letter, Vybz Kartel shed some light on his double murder charge and how Jamaican law enforcements intimidated an alleged witness to make a false statement.
This is what Vybz Kartel said:
"In 2011, I was charged for murder by way of a statement which indicated that I had ordered Lenburgh McDonald to murder Barrington 'Bossie' Burton. Weeks later, said witness gave a statement to the Public Defender saying that he was physically assaulted and threatened by the police to say that I was involved in 'Bossie' Burton's death. Days later, he gave another statement to the Public Defender saying that since he recanted the first statement, he has been getting death threats via calls to his phone."
If what Vybz Kartel said is true, then we can understand why a witness would not want anything to do with this case, whether it be testifying against Vybz Kartel, or on his behalf.
If this unknown witness testify on behalf of the state, goons aligned to Vybz Kartel maybe out to get him. Jamaica is notorious for its harsh treatment of informants (informa).
On the other hand, if this witness testify on behalf of Vybz Kartel, Jamaican police officers maybe out to get him. Jamaican police are notorious for using excessive force and even killing.
It would not end well for this witness if he testified in this trial.
Hence the reason why this witness found himself between a rock and a very very hard place and thus refused to cooperate.
Home Circuit Court judge Bryan Sykes is now hearing arguments from both the prosecution and defense on whether to enter into evidence the first statement made by this witness to police officers.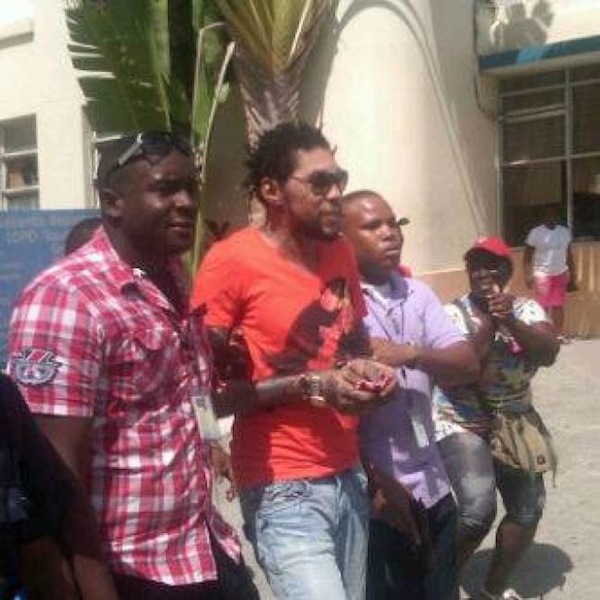 Prosecutors argued that because the witness is in fear of his life he refused to cooperate and want the statement to be entered under section 31(D) of the Evidence Act.
Vybz Kartel's legal team argued that the statement made by the witness is not credible since he was intimidated by police officers to make same statement.
Justice Sykes is expected to hand down a ruling by Monday.
Vybz Kartel, born Adidja Palmer, is currently on his fourth day of trial for the murder of St. Catherine promoter/businessman Barrington "Bossie" Burton.
Police say Burton was shot and killed in Gregory Park, St. Catherine on July 12, 2011.