It seems that Burna Boy has gotten word of the apparent confirmation that Jada Kingdom and Pardi Fontaine are a number after the pair were seen holding hands while attending New York Fashion Week.
On Tuesday, the "Ye" artiste posted a cryptic message with a large laughing emoji on his Instagram story, which many believe is him addressing Jada Kingdom's relationship.
"All I can say is…. City Boyz is UP," he wrote, referencing the popular American slang, which means that a man is winning when he is living his best life and chasing the bag while not letting women hold him back.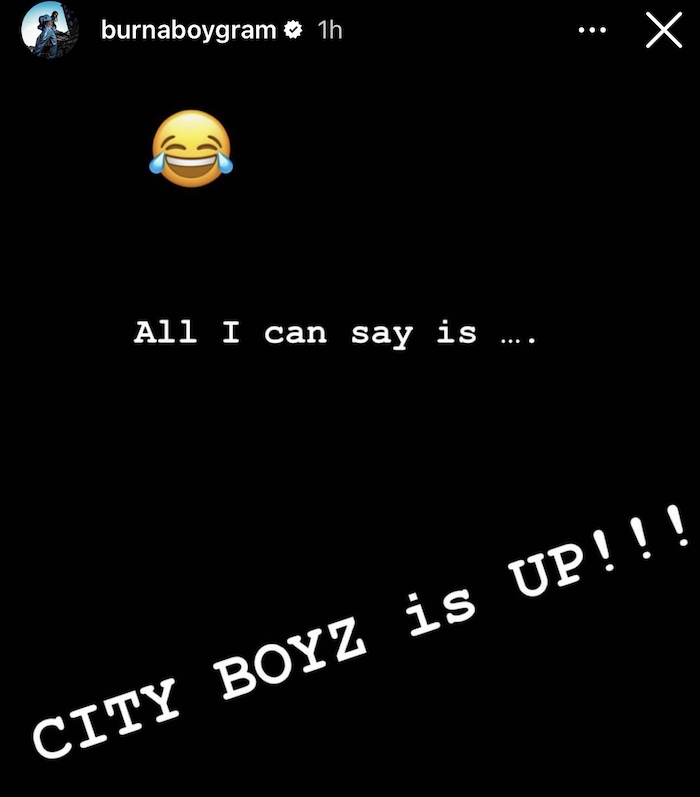 Burna Boy and Jada Kingdom were linked together up to last month after he boasted that he bought her a Birkin bag and name-dropped her in his verse on Byron Messia's "Talibans II" remix.
Weeks before that, Jada was seen with him at a family dinner to celebrate his birth and at London's O2 Arena for his show. She also shared her brand-new Birkin bag and roses and gifts she received. She was also spotted with him in the Netherlands, where he performed.
However, she and Burna were not seen together at all when he visited Jamaica for his birthday and spent over a week on the island enjoying its natural beauty and festivities.
After her Reggae Sumfest performance in July, the artiste was skillful as she navigated questions by the Jamaican press about her and Burna Boy.
"I'm on the street every day, I've never heard that," Jada says after being asked about rumors of her and Burna dating.
When told that Burna Boy claimed to buy her a Birkin bag in his song, she commented, "Oh he did? I would have to listen to it."
Burna Boy previously dated Stefflon Don, but the two broke up after a woman surfaced on the internet claiming she had been seeing the Nigerian artiste for over three years. She claimed she even stayed at his home in London and traveled to Nigeria to see him.
Jada Kingdom previously dated Nas EBK, whom she broke up with earlier this year, and fellow artiste and producer Verse Simonds. She and Pardi seemed to make things official this week after he was seen with her for dinner and later together at NYFW.