It's been three years since the release of Cardi B's freshman album Invasion of Privacy which topped the Billboard chart upon its debut and spawned Hot 100 hits with the entirety of its tracklist. The album has been charting for 156 weeks now, according to the Billboard 200, and its lead single "Bodak Yellow" recently became the first rap song by a female artist to be certified Diamond by the Recording Industry Association of America.
While the debut that took home the Grammy for Best Rap Album in 2019 has been oozing success for its entire duration, Cardi now has her eyes and heart set on the completion of her sophomore effort. This one, she says, is a bit more challenging because of the overwhelming public opinion about the type of rapper she is supposed to be.
Cardi B has always had a passion for Chicago drill and trap music, as proven by her early mixtapes but even though she is trying to focus on this, her own sound for her next album, it can become a bit challenging when she is always being compared to another type of female rap artist. For years Cardi has been securing the bag and the accolades with her own style, but the chatter that constantly compares her to other female rappers has never died down.
In a new interview with XXL Magazine, the Grammy-winning rapper talked about how male trap rappers are never compared to their traditional counterparts, who are considered lyricists. Meanwhile, female rappers are constantly pitted against each other and expected to compete in the same style of rapping.
Cardi B On New Album Sound
"I'm not even gonna lie, it's a little bit challenging because it's like, I'm young and I like trap. When I started rapping, if you listen to my mixtape, I like drill. My thing was always like, drill. I like drill Chicago music a lot. So that was my thing. I'm more of a trap, I'm more of a new era-type of rapper," Cardi B explained to XXL. "But for some reason, I don't understand how there are so many male rappers that could do new era rapping, the trapping, and when it comes to female rappers, it's like, Where's your bars? Where's your this? And, they constantly have to compare me to other rappers. And it's like, why can't I just be this type of artist? Like, I want to be this type of artist. Like, why can't I be it? Like, stop."
She continued, "That's one thing that it's like, yo, they do not be comparing these young men. They don't compare them to other rappers like Jay-Z or Kanye West and everything. But female rappers, it's like, people gotta always compare me to the last one. And I hate that."
It's safe to say that Cardi B has been compared to other female rappers for nearly all of her music career. The double standard that exists between female trap artists and male trap artists is certainly undeniable. While a rapper on the Chicago drill scene is not pressed about his lyricism or forced to adapt to the traditional rap style of his veteran counterparts, the same cannot be said for female rappers. The fact is there are women who do trap music who care zero about being lauded for their lyrical prowess while others take pride in their bars and wordplay. Somehow the industry allows the men to choose but constantly pit the females against each other in that regard.
Cardi B Talks Female Rappers Comparisons
When asked if she thought that was the goal, to pit the women in the hip-hop industry against each other, Cardi said it's not just that. "Not only is just pitting, but it's just like, I hate that because… I don't know how to explain it. I don't want to go with another b*tch formula," she said. "I want to go with my formula. So, it's like why do y'all want me to rap like this girl or have like, bars like this girl or have these flows. A hundred flows like this girl? I'm going with my flow. My flow makes me money. My flow is what I like to hear. My flow, it's just me."
Cardi B explained further how working at someone else's pace can completely throw off an artist and that it's best to tune out the noise and focus on your own timing. With this mentality, she has proven time and time again that no matter what naysayers spout, her moment will always be just hers. "I just don't like to be on pace with somebody else. I like running on my own time. I like doing things on my own time and my way. So, I really hate when people pit me against each other, because it just makes me feel like I gotta move like them. And I don't like moving like nobody else. Even last year, everybody was putting music out, all the females. Nicki Minaj. Doja Cat. Megan Thee Stallion. And people was just saying, 'Oh, Cardi is over. Cardi's over.'"
She continued, "Everybody was like, 'Cardi's over. Ah, we told you. She's not no real artist. She's this and that. Oh, yeah, we got women back.' Everything that I accomplished, people was trying to erase it just because new females were out. And that sh*t made me feel like, D*mn, I gotta rush, rush, rush, rush, so I could be in the lineup with these girls. And you know what? I said, 'No.' And I kept recording. I kept writing down ideas of how my next single rollout was gonna come out 'cause I ain't put out music in six, seven months. And when I do things in my time, in my pace because I'm not watching other b*tches, I do great."
Cardi B dropping music at her own pace
As an example, Cardi explained how her most controversial No. 1 hit, "WAP," was long ready, but she never let the pressure of public opinion impel her to put out the record early. After its release, the Megan Thee Stallion-assisted hit was certified Platinum less than three weeks later. "I had that song for months. Could've been put it out. And no, I'm not gonna put out a song because other b*tches is doing good or they're doing great. That's them," Cardi said. "What they eat don't make me sh*t. And then, it's just like, it was a really weird moment for me because I hate working because of other people pace. Because other people is doing something. Alright, they doing good, then that's good for them. But just 'cause they doing good doesn't mean that I'm gonna be out here rushing my life. Or like, rushing to be in line with them. When it's my moment, it's my moment."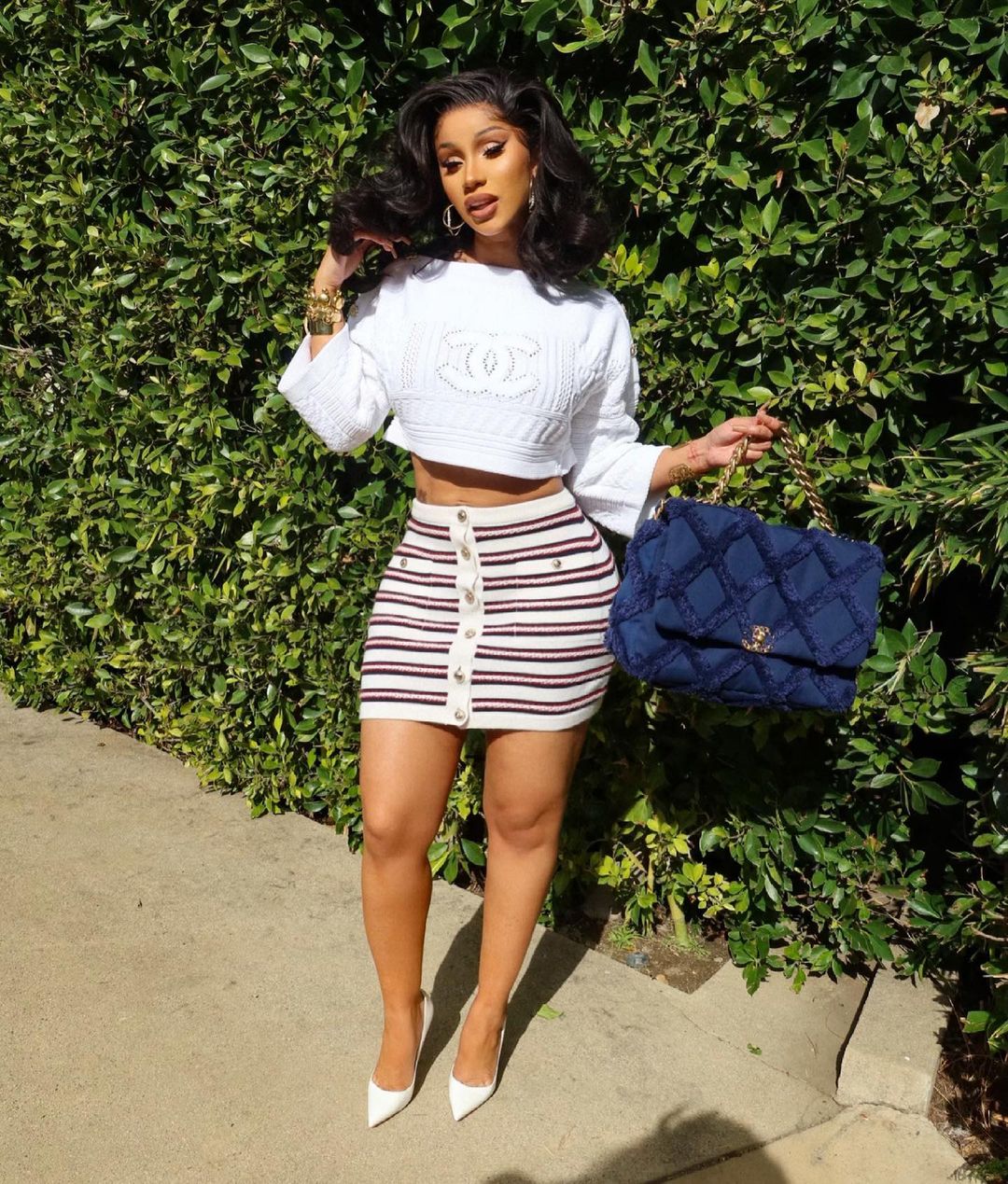 Cardi B is one artist who knows firsthand that she seemingly can never do anything right in the eyes of some fans. Her song "WAP" was met with uproar and harsh criticism from social figures, political figures, fans, non-fans, and more. While the rapper says, "it's not the nastiest song I ever heard," as she grew up listening to artists like Khia, Trina, Lil Kim, Foxy Brown, etc., others definitely painted it that way. Again, male rappers are never admonished for similar "oversexualized content," but the nature of Cardi's quintuple-platinum single is still a popular conversation piece today. The constant juxtaposition of female rappers can get a bit toxic when it comes to positive achievements also. Cardi's accomplishments are scrutinized perhaps even more than any other rapper.
How Cardi B handle hate after becoming a diamond-selling rapper
Cardi B received hate when she earned her Diamond plaque, with some fans contesting that it doesn't make her "the greatest rapper ever." Similarly, this scrutiny came with her Grammy win as well, which must unfairly make some of the rapper's biggest career wins bittersweet moments. So she is made to feel like her work is never enough while her achievements are minimized. "I'm not saying that this makes me the best female rapper, ever. However, this is my moment. Let me enjoy it. Because when another b##ch get this moment, I'm not gonna be mad at it. It's her moment. Let me have my moment, bro."
This year, Cardi B plans to release her second album, which will hopefully still embody the essence of who she is as an artist and not conform to traditional rap. Cardi's XXL Magazine Spring 2021 cover will be the last major interview we get from her for some time as she intends to dedicate some serious time to completing her sophomore album. "I got like, a week of making sure I handle all my business, making sure everything is good, go to meetings. And then, I'm going away for a very long time to finish my album," said the rapper. Up next, the rapper hopes to have both of her albums charting on the Billboard 200 simultaneously.