Tekashi 6ix9ine's girlfriend Jade wants you to mark his release date on your calendar and count down with her.
The month of September saw Daniel Hernandez, better known as Tekashi 6ix9ine, providing critical testimony in court used to put fellow gang members behind bars. The well-publicized trial ended late September, and almost everyone involved has been charged except the young, rainbow hair rapper. While many people are not so happy to see Tekashi walk free, his girlfriend Jade seems to be counting down the days until she is able to see him again. A fan page posted an image of the two lovers holding hands with the caption "31 days." Jade reposted the image to her Instagram story, leaving many fans to wonder if it meant his day of release.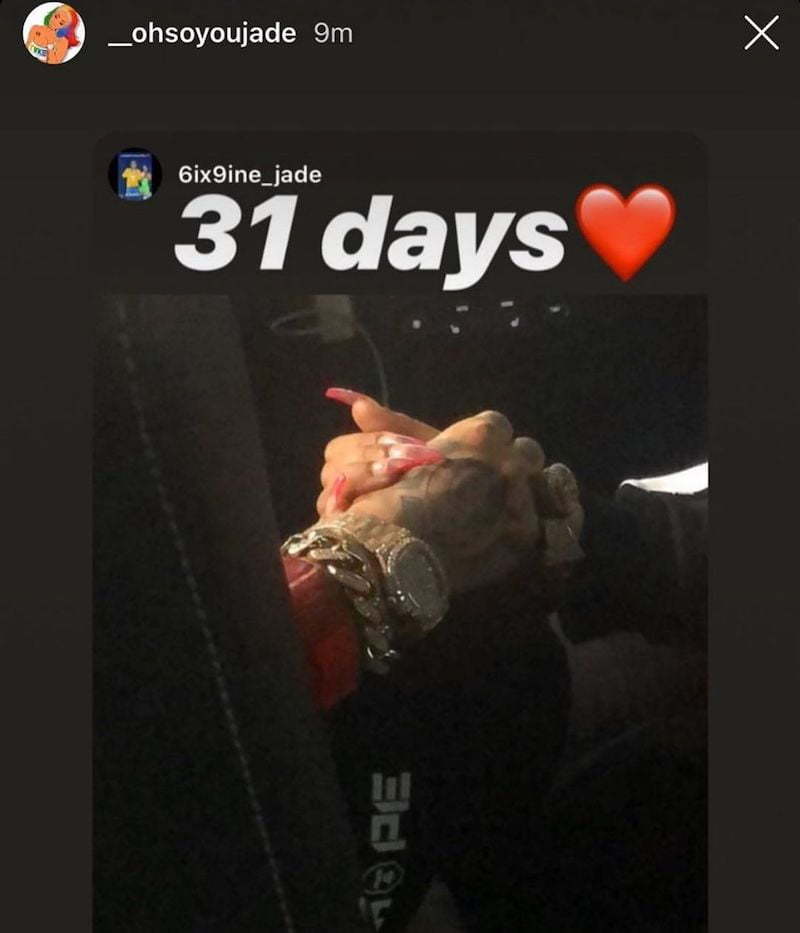 While Jade didn't elaborate on an exact date, the timing of her post coincides with the reported December 18 sentencing date for Tekashi 6ix9ine. Because of his critical testimony, 69 is expected to walk free with a sentence of time served. 6ix9ine's sentencing was initially scheduled for January 24, 2020. However, the court pushed the date forward to Wednesday, December 18, 2019, at the request of his defense attorney. The date and the time frame lines up perfectly with the new date, as it is approximately one month from when the post was made on November 18.
There has been a whole lot of speculations to what sort of sentencing the rapper will receive. Many are wondering if he will be put into witness protection or if he will walk free. There have also been talks of the rapper getting a 10 million dollars deal while in prison.
We await the faith of the "Gummo" rapper as December draws near.