Snapchat is gearing up to release a documentary Chronicling Tekashi 6ix9ine career.
The whole Tekashi 6ix9ine snitch dilemma has been very entertaining. Fans who have been keeping up with all the developments have been desperate to hear the announcement of a series covering the events. On Wednesday, they got their wish when Snapchat announced that its parent company Snap Inc. will be releasing new original shows for its video platform, including a documentary series about the famous rapper.
Tekashi has been the government's key witness in the trial against his former gang affiliates, Anthony "Harv" Ellison and Aljermiah "Nuke" Mack. The trial which is now on-going began on September 16th. Over the course of the trial, Tekashi 6ix9ine gave crucial yet controversial testimony against his two former Nine Trey Blood gang members. His testimony comes nine months after coping a plea agreement with the feds to help lesson a possible 47-year sentence. 69 was picked up by the feds in November of last year along with his ex-manager Shotti who was sentenced to 15 years in prison thanks to Tekashi's cooperation with the feds.
Urban Islandz has been reporting on all the developments in the trial thus far. The rapper has given explosive detail on Nine Trey's organizational structure including rankings of various members and illegal activities the gang carried out in the New York area. 69 has identified his former gang members on the witness stand in court during his 3-day testimony. He was able to identified individuals via a long list of evidence the prosecution presented including audio, text messages, video, and photo evidence. Perhaps the most controversial part of his testimony is his identification of Cardi B, Trippie Redd, Jim Jones, and Casanova, as known gang bangers tied to various gangs in New York including his former gang, Nine Trey Bloods.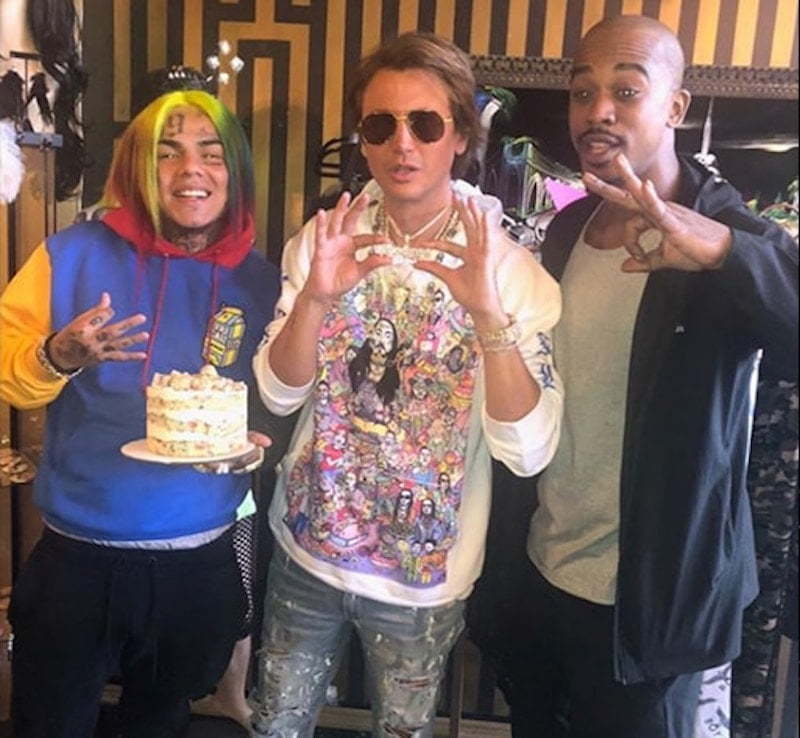 There has also been a leaked video, and audio confirming the gang robbed and kidnapped Tekashi back in 2018 and a recorded conversation between rapper Jim Jones and Mel Murda calling for 6ix9ine to get "violated."
The court was stunned when it was revealed that 6ix9ine's driver was a secret government informant after being approached by ICE. This is how the video of his kidnapping made its way into the hands of the feds. A critical leak is audio recordings of Tekashi's former manager, Kiffano 'Shotti' Jordan, discussing his plans to hurt the rapper whom he was tasked to manage after their relationship went sour in the fall of last year.
Now fans can sit back with popcorn and drink in hand to watch Tekashi's life during the fame, and his current prison bid play out on screen as Snapchat's parent company Snap Inc will be launching a docuseries chronicling Tekashi. The documentary, Tekashi 6ix9ine Vs. The World, is an "up-to-the-minute docuseries" covering the controversial rapper's rise and sudden fall from grace. Complex will handle the production of the series that will cover different personalities in the music, sports and entertainment world.
The show, which is reportedly scheduled to premiere this fall, will also feature interviews from people who closely engaged with the rapper including DJ Akademiks, Ebro Darden, Adam22, Tory Lanez, Cuban Doll and lots of others who've encountered the "Billy" rapper thus far. However, Tekashi will sadly not be benefitting financially from the project.
While it is no Netflix, SnapChat users can watch the Snap Original on the Discover page to the right of the camera when it drops. It will likely be filled with a lot of juicy details surrounding the trial. We'll be tuned in for sure.