Audio from an alleged conversation between Jim Jones and a Nine Trey gang member has leaked from the trial involving Tekashi 6ix9ine.
Tekashi 6ix9ine has been making headlines all week as he testified in federal court in a case against two Nine Trey Gangsta blood members in hopes for his own immunity. Over a 3-day time period, Tekashi cooperated with prosecutors in a racketeering case involving members of Nine Trey including his ex-manager Shotti and two affiliates who pled not guilty, Anthony "Harv" Ellison and Aljermiah "Nuke" Mack. But it was other big names Tekashi dropped that came as a shock to the public after the New York rapper told the judge that Jim Jones, Trippie Redd, Casanova, and Cardi B were all gang affiliated.
On Thursday the government reportedly played an audio recording from who they believe to be Harlem rapper Jim Jones and the "godfather" of the Nine Treys, Mel Murda. The audio from that wiretapped recording has since leaked, and in it, you can hear two gentlemen discussing someone they're referring to as "shorty," and a voice that the feds believe is Jim Jones said that "shorty" needs to be violated.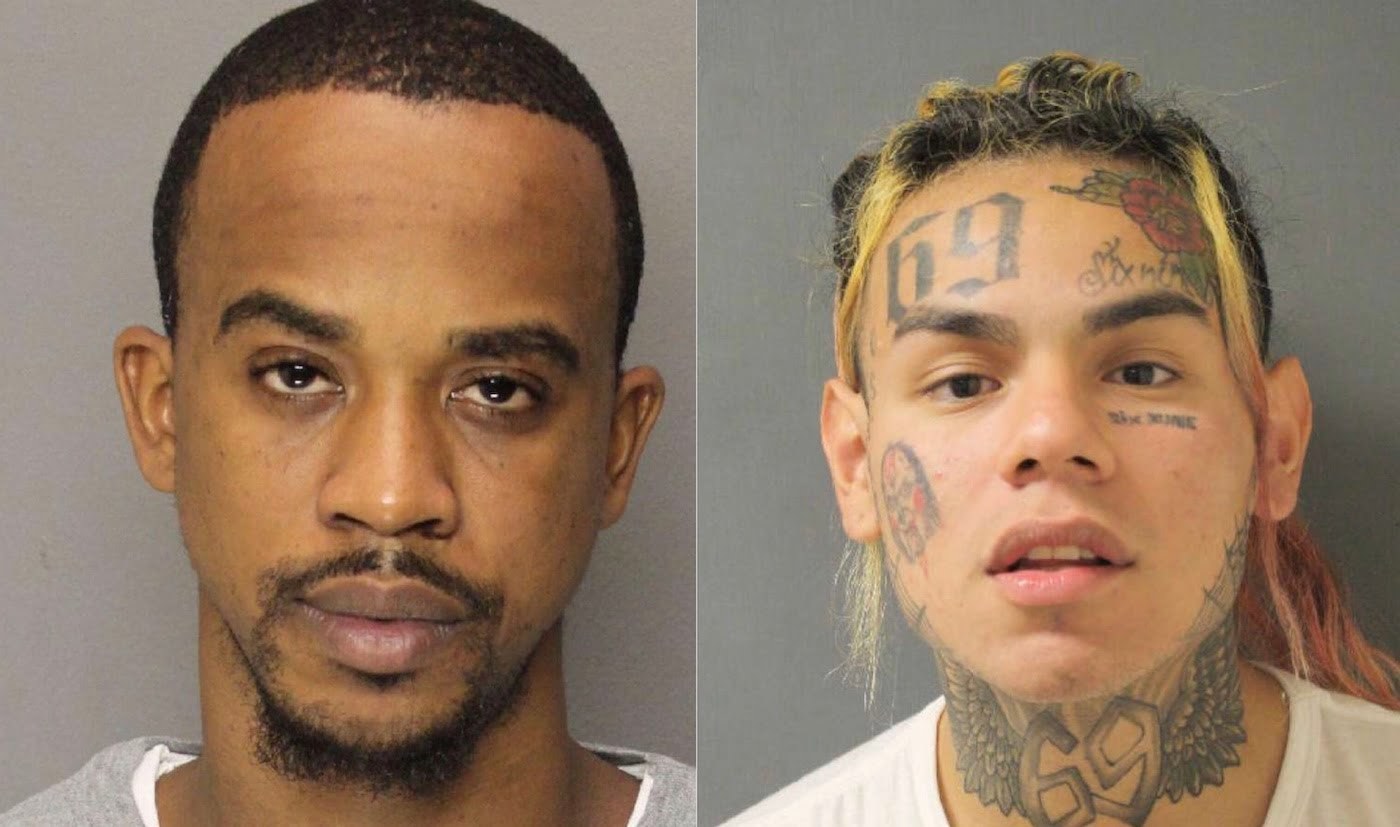 The leaked recording begins with the first gentlemen, said to be Mel Murda, saying that the subject in question was humiliating him and humiliating Shotti. The second voice that is allegedly Jim Jones says, "That's cool, but now he got to get violated."
"Ain't too much he can really do unless he go run around with 100 securities all day," the first voice said. The second voice, allegedly Jim, said that the person doesn't have enough money for that type of muscle. The conversation continues and the second gentlemen said that Shotti needed to tell the world that "shorty" was not a real gang member. "And he ain't a gang member no more. That's what Shotti need to make sure he do is tell that ni**a that he not a gang member no more … he kicked out, he was never a gang member. He need to expose him."
The first voice said that TMZ asked for an interview, to which the voice said to be Jim advises that he doesn't speak to the media and leave it all up to Shotti. "He needs to be very articulate about what he say and why he made people think that he was a gang member. He was never a gang member. He was always a money ploy for the gang members. He gotta figure it out. But they gone have to violate shorty cause shorty on some bullsh*t."
"[Shotti] better get to violating, he better stalk shorty every move," he continued. "One of them security better get hit. Something better happen. He better start doing something. Once he start tearing the security down, ain't nobody gonna want that job. He gone have to stay in the house pretty soon. Once security get injured, them n*ggas like 'naw he too much of a liability.'" The voice continued to encourage shotti to "tear the security up"
Tekashi completed his testimony Thursday and there was no court on Friday. The trial against Ellison and Mack will continue on Monday.