Chris Brown lets Rihanna know that she still gets him excited, Breezy posted multiple comments under her sexy lingerie pic.
Possibly one of the most loved celeb relationships was that of singers Rihanna and Chris Brown. The pair looked gorgeous together and was the subject of envy. The two dated over a decade ago and parted ways in 2009 to an unfortunate domestic violence ordeal that left Rihanna battered. It became one of the most talked-about situations at the time and sparked widespread hatred for Chris. Since then Chris has moved on to numerous women including Karrueche Tran and Ammika Harris among others. However, fans have long since stated that Chris has never gotten over Rihanna and has desperately been trying to replace her since they broke up.
Rihanna, on the other hand, has not looked back since moving on from Chris and is currently dating billionaire Hassan Jameel. She has been focused on her makeup line Fenty and her lingerie line Savage x Fenty which is the source of Chris's renewed flirtation attempts.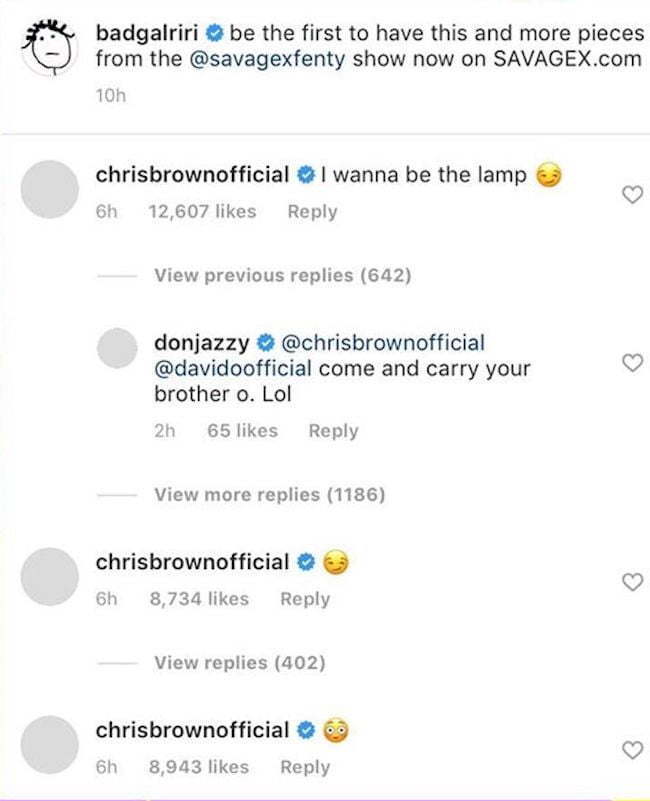 Rihanna took to her Instagram page to showcase a racy lingerie set from her SavagexFenty show, and Chris could not contain himself, commenting under the photo, not one, not two, but three times.
The image depicts Rihanna laying face down on silk sheets with a lamp laying beside her. She is donning a pair of lace undies and bra paired with lace gloves. Chris brown lusting commented two emojis, one smirking and one looking stunned. He then followed that up by stating, "I wanna be the lamp," referring to the lamp laying beside her.
Fans immediately attacked Chris for his comments with one fan stating, "why don't you try to be a decent human being instead?"
Another added, "so u can bounce it off her head…buzzzz off ike."
Chris's comment now has over 1000 responses with most fans reminding him that he had her, and then he royally screwed it up. Let's see if this massive backlash will force Chris to delete his comments or if it will spark a reaction from Rihanna.