Cardi B says she is not waiting on Nicki Minaj to drop her album before releasing hers.
Cardi B and Nicki Minaj are the two leading female rappers on the planet right now and fans and the media have been fueling a rivalry between the two. Although they have both denied having any beef, the imaginary rivalry is clearly working to their benefits because both of them are hunkered down in the studio trying to top each other with their upcoming body of work.
The major difference between these two female MCs is that one is a veteran and one is a newcomer. Nicki Minaj is currently getting ready to release her fourth album and this is Cardi B's debut LP. Hip-Hop fans have been hammering both of them on social media asking where are the albums. Nicki dealt with the pressure by signing off the Gram for the past two months, while Bardi stuck around until she snapped and speak her mind.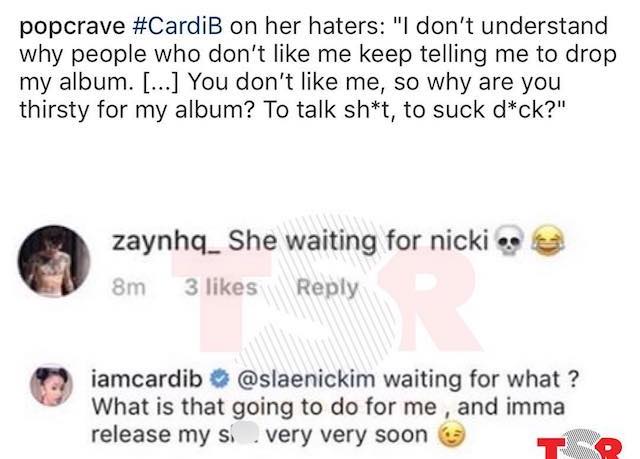 "I don't understand why people who don't like me keep telling me to drop my album, Cardi B said on IG when one fan suggested that she is waiting for Nicki to drop first. "You don't like me, so why are you thirsty for my album? To talk sh*t to s*** d***?"
"Waiting for what?" she added. "What is that going to do for me and imma release my sh*t very very soon."
Clearly, the "Bodak Yellow" rapper is irritated by the suggestion that she is waiting on Nicki to release her album to see if she can level up. It could also be the other way around where Nicki Minaj is waiting on Cardi B to see if she coming with some more of that "Bodak Yellow" sauce or if it will be a flop. In the end, this is almost like a wild west standoff, except it's who draws first might die.