Seems Meek Mill and Nicki Minaj breakup and Makeup over the last couple of days was all a publicity stunt to sell albums.
The Philly rapper dropped his album "DC4" a little over a week ago but a few days after the album debut on Apple Music, he and his girlfriend Nicki Minaj started fighting publicly on Instagram. At one point their back-and-forth jab at each other became so awkward that a lot of their fans started righting them off as a couple.
A few days again after their public fight, the couple started tooling around on social media signalling a reunion. Sources close to the Trini rapper are now telling us that it was all a big publicity stunt get more attention to Meek Mill who has a new album out.
"Even while they were fighting on social media they were still texting each other and laughing so I would understand why some folks would see it as a publicity stunt," sources told us. "The way Nicki sees it, there is no such thing as bad publicity because publicity is what get your brand out there and make people more interested in your music. Maybe Meek start to take note now, but let's see if it reflects in album sales.
On Saturday night Meek Mill posted a photo of himself and Nicki Minaj calling her his wife. But a few days before that he was calling her a disloyal b**ch and she was calling him ungrateful.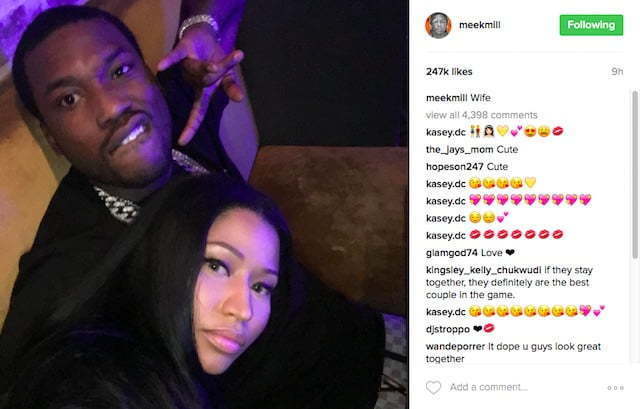 Seems like both Meek Mill and Nicki Minaj also have their own relationship goals. Yesterday, the Young Money rapper posted a photo of Nipsey Hussle and Lauren London. "This picture makes me so happy for some odd reason," she wrote. "I can't take her being so beautiful. All #sagittarius chicks are pretty, sexy, & loyal. Now check dat #inspiration."
Meek's relationship goal seems to be Teyana Taylor and Iman Shumpert which he used in a meme to shade Nicki Minaj last week.
https://www.instagram.com/p/BMUwVYPha-Q/
The MMG rapper is getting ready to drop his DC4.5 followup album sometime this week. Perhaps the publicity is working in his favor because he has been getting a lot of attention for DC4 on social media.