Meek Mill went nuclear on Nicki Minaj on Wednesday triggering another Instagram spat between the now former couple.
Sources close to the Trini rapper tipped us off about what went down between the two who were acting like a loving couple only two days before. Sources told us that Meek Mill was furious with Nicki and even went as far as calling her a disloyal b**ch who is just stunting with him on Instagram for the attention.
"This wasn't just another one of their petty fight it was a big blow out with expletives flying back and forth," our sources said. "Meek has been feeling like Nicki never had his back when other rappers were coming for him, but she is feeling like he is the one getting involved in those beefs and he is a grown man capable of fighting his own battle. She doesn't want to get involve to protect her brand. I guess he sees it differently especially since Game also dragged her name in their beef, he is feeling like she should have said something. I think he wanted them to do a diss track but she wanted no part in that. He called her a disloyal b**ch and you can only guess what went down from then."
Last month Meek Mill went on an Instagram rant reinforcing his stance that Nicki Min is not loyal to him. "When it's going down these n**gas nowhere to b found most of these n**gas b so temporary… b**ches b so temporary," he wrote.
Nicki sources told us that Meek is feeling like she is only riding with him when its convenient and that she always picks fight with him over petty stuffs. "He is feeling like she always pick a fight with him over some petty stuffs because she is bossy and her strong personality can come off a certain way sometimes and he is on the sensitive side," sources told us.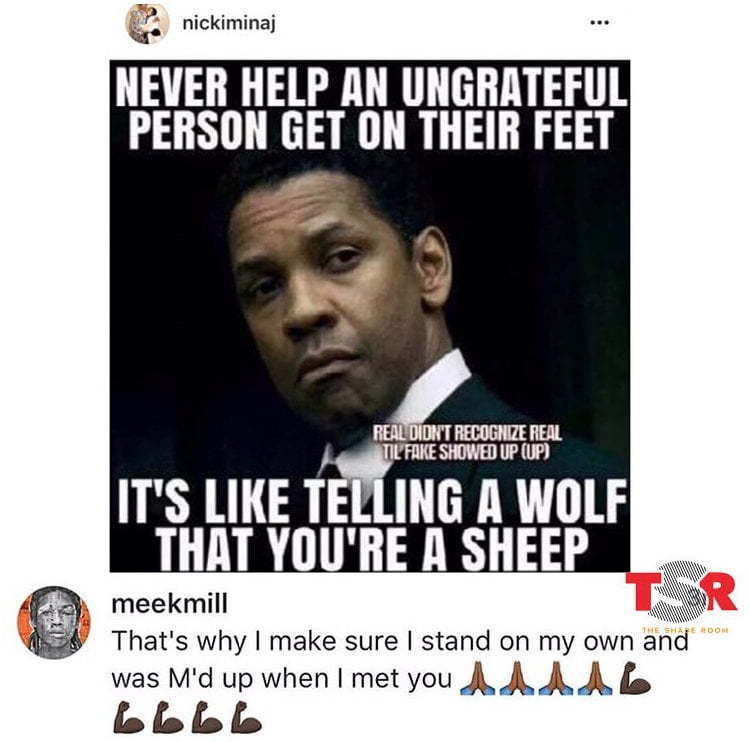 Seems both are accusing each other disloyal. Yesterday Nicki Minaj labeled Meek Mill as an ungrateful person. "Never help an ungrateful person get on their feet, It's like telling a wolf that you're a sheep," the meme she posted on Instagram reads.
Meek commented under the photo telling her "That's why I make sure I stand on my own and was M'd up when I met you," he wrote.