Leave it up to Kanye West to debut a near porn style music video for "Famous" during a live event at the Forum in Los Angeles.
The video showcase what appears to be the world's largest bed and with images of naked celebrities claiming to be Donald Trump, Caitlyn Jenner, Amber Rose, Anna Wintour, George Bush, Bill Cosby, Ray J, Kim Kardashian, Taylor Swift, and of course Kanye.
Kanye West Added Another Track To 'Life Of Pablo' Name 'Saint Pablo'
It's still a mystery as to whether or not the images are the actual celebrities that were mentioned but the G.O.O.D. Music rapper thanked all of them in the credits for being famous.
You can stream the "Famous" video via TIDAL below.
"Famous" is a cut of Kanye West platinum-selling album The Life of Pablo which was released in February of this year. The single grabbed headlines immediately after the album dropped due to some lyrics about Taylor Swift.
So far only Donald Trump has stepped forward to deny the he was the one in the image. There are still a lot of doubts as to all the celebrity photos with the exception of Kim and Kanye.
Ye will be kicking off his Saint Pablo tour on August 25th at Bankers Life Fieldhouse in Indianapolis, IN before making his way across several major North American cities.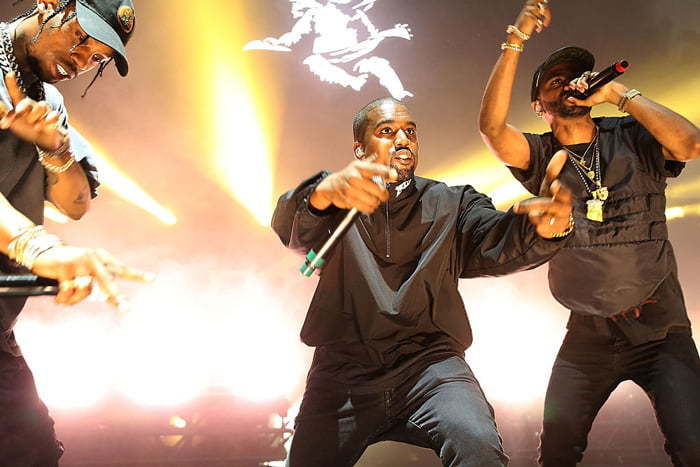 Kanye West Debut 'Only One' Game Trailer At E3
Let's also not forget that Kanye West will be dropping two more albums this year and we already know the title for at least one of them will be Turbo Grafx.
He is also working on his G.O.O.D. Music compilation album Cruel Winter, due this fall. That project will be a followup to his 2012 album Cruel Summer that saw appearances from the likes of Jay Z, Big Sean, Ghostface Killah, Raekwon, 2 Chainz, Travis Scott and more.