Rihanna and Drake maybe working together again on music and even a upcoming music video.
The "BBHMM" star has been quietly working behind the scene on her new album ANTI. Earlier this week Urban Islandz published a leaked tracklist, but no one from her camp could confirm its authenticity. There is a single on the tracklist with Drake title "1988."
Young Thug To Be Featured On Rihanna's New Album ANTI
Now it seems like there is some truth to them working together because they maybe looking for casting members for a new music video for a single title "Work."
Sources close to the Bajan pop superstar told Urban Islandz that there is a casting call for a video but declined to divulge details surrounding the project.
"There is an active casting call but everyone is still in the dark for the most part and cast members will have to sign a confidentiality agreement so don't expect any details to leak," sources said.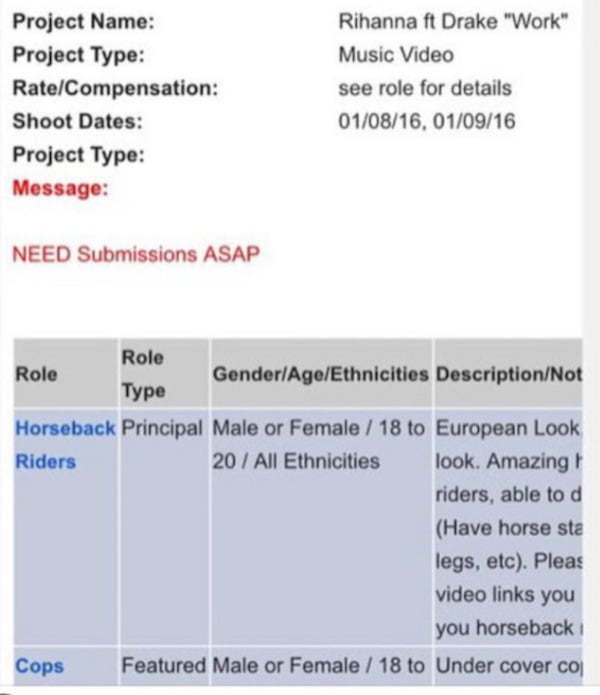 For the casting roles, Rihanna camp is looking for male and female actors 18-20 years old to play cops and horseback riders.
Perhaps the next single off Rihanna's ANTI album will be titled "Work" and features Drake.
RiRi and Drizzy have worked together in the past on "Take Care" in 2012 and the 2010 smash hit "What's My Name."
Rihanna ANTI album is due any day now and fans are growing impatient for her next major project.
Details surrounding the ANTI album are still a secret but earlier this week the pop star unlocked the 7th room in her video series posted on her new website ANTIDiary. Samsung is the main sponsor of the album following a whopping $25 million deal.
The album is expected to drop after she unlock room 8.
Do you think Rihanna and Drake will recreate the magic?
Sound off in comments below.