Could this be the official tracklist for Rihanna new album ANTI.
Rihanna's long awaited new album ANTI is still mysteriously hiding from her fans somewhere on Roc Nation hard drive.
There is still no official release date for the project but there is a strong chance that we will get it sometime this month.
Drake And Rihanna Rule Spotify Music Streaming Service
Urban Islandz obtained this leaked image of the unofficial tracklisting for ANTI. Sources close to the Bajan pop star told us that it is legit and will come in two parts a regular and a deluxe copy.
"The album is coming very soon as early as a couple days, so look out because it could drop without notice," sources said.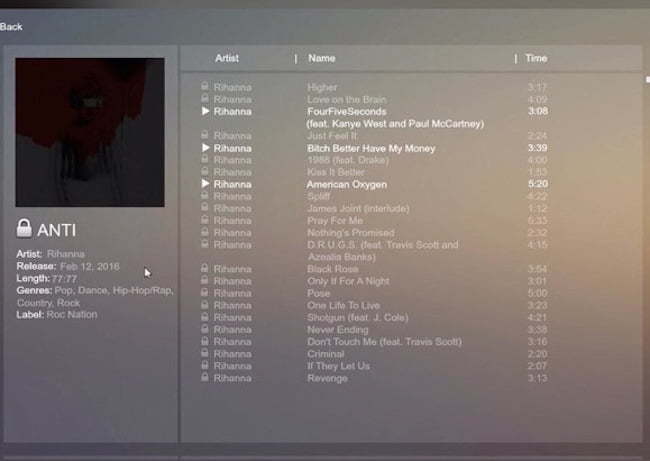 The leaked tracklist shows collaborations with J. Cole, Drake, Travis Scott, Kanye West, and Paul McCartney.
The leaked tracklist shows a total of 22 full length singles including already released singles "FourFiveSeconds," "BBHMM," and "American Oxygen."
Drake is featured on a yet to be released song called "1988," while J. Cole is featured on another single titled "Shotgun."
Interestingly Young Thug is not listed on any of the singles on the leaked tracklist despite being spotted with Rihanna in the studio late last year.
Rihanna and Samsung has been teasing fans with clips on her ANTIDiary website. She unlocked room seven earlier this week with only one room to go.
The big question is, will she drop the album when she unlock room 8? Her fans, code name Rihanna Navy, have been growing impatient on social media.
Despite not dropping any major project last year Rihanna had a great year. She was named Spotify most streamed female artist in the world with over a billion streams and 57 million listeners.
Today is a day I'll never forget!!! Thank you #RihannaNavy for allowing me to make history with you!

— Rihanna (@rihanna) July 1, 2015
Last year she was also created history by becoming the first artist to make it across the RIAA's 100 million gold and platinum song certifications.