Chris Brown has a new state of the art home in the San Fernando Valley believed to be worth upwards of $4 million and he has already invited his old flame Rihanna to get a tour of the property.
She has not decided yet on whether or not she will visit his new pad, but sources close to the Bajan pop star told Urban Islandz that she gave Brown some much needed advice while he was home shopping.
SEE ALSO: Rihanna Thinks Chris Brown Need A Bad Gal, Karrueche Too Timid
"RiRi and Chris are good friends and that is what good friends do they give each other good advice… She always gives him great advice so it wasn't surprising when she gave him a few advice based off her own experience buying properties," our source told us.
"He has already invited her over to come and check out his new home but she hasn't accepted his invite at least not yet. These two have a romantic history and once paparazzi see anything like the whole internet is going to blow up and both of them just want to focus on their careers and on positive things right now," our source added.
Chris Brown has been showing off his new crib on Instagram. According to TMZ, the 8,317 sq. ft. house has six bedrooms, a 10 car court, a home theater with 14 recliner seats, a saltwater pool and state of the art security system.
The "Ayo" singer has also converted one large room into his own personal walk in closet with hundreds of sneakers.
The R&B singer bought the home in May and has been busy furnishing it off since then. He also showed off some custom paintings via his IG.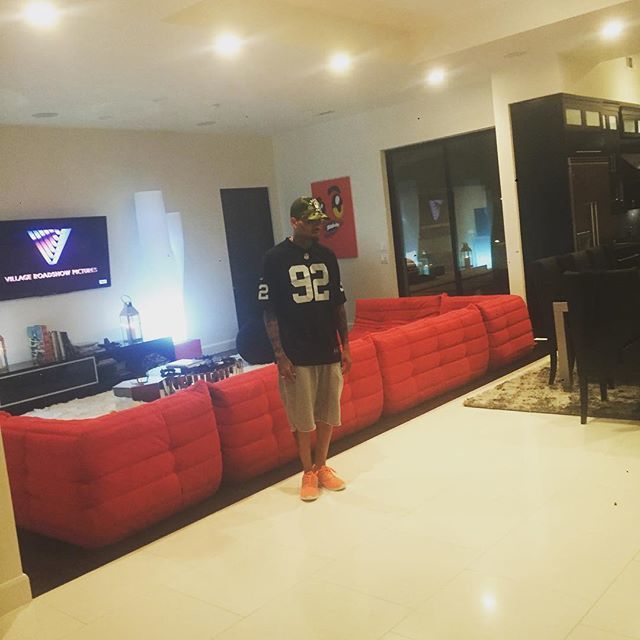 Chris Brown has also been having some personal problems of his own involving his daughter Royalty and his custody and child support battle with baby mama Nia Guzman.
Last week, the "Private Show" singer blast his daughter Grandmother on Instagram after she called him out over taking care of his daughter.