Chris Brown has his hands full with his baby mama Nia Guzman wanting a big increase in his current child support payments.
Earlier this week, Nia's mother went on Instagram and left a message under one of her photos demanding that she push to get more money from Breezy.
SEE ALSO: Chris Brown Says "I'm Not Into Hoes Anymore Or Groupies"
"She needs security even when she's with Nia, she needs to go to private school and she needs to live in a gated community for his own daughter's safety," she said.
That comment angered Chris Brown who clap back at Royalty's grandmother.
""Obviously you aren't looking out for my daughter by putting personal issues up on Instagram," Brown wrote. "I'm not gonna be disrespectful and rude about this becuz I know and they know I provide and take care of my daughter equally. I work and have a job and so will the mother. I actually stepped up to the plate to be a father and havent complained once. And deep down you know yall on some bs. Not here to bash anyone nor be confrontational. I filed for joint custody. "EQUAL" custody. No kid needs $4k a week. Especially when I have her 2weeks out of the month. So this is the last time im ever saying my peace on this issue. Let the courts handle everything else so we can handle the matter as civil adults. Telling all your business is childish and is not setting a good loving environment for ROYALTY."
The Shaderoom got a screen grab of the exchange.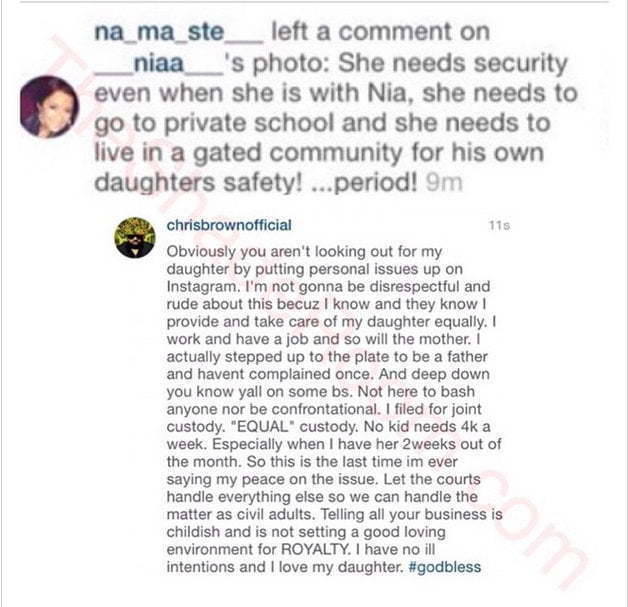 Chris Brown filed legal docs last month in Houston requesting that a judge put in place a formal child support and custody agreement.
The "Ayo" singer is currently forking over $2,500 per month to his baby mother. But she want to up that amount to $15,000. He is also complaining the Guzman is preventing him from seeing Royalty.