Rihanna and Chris Brown are not completely over and soccer stud Karim Benzema is still in the friend zone.
The Bajan pop superstar has been spotted on a few dates with the French soccer striker, but sources are telling us that they are just friends having a good time.
SEE ALSO: Chris Brown Gets Full View Of Rihanna And Benzema PDA In The Club
"When you're a celebrity it is very hard to hang out with other celebs without the media putting a label on your relationship with that person," Urban Islandz ever so reliable source close to the "Rude Boy" singer told us.
"No one know if a intimate relationship will developed between RiRi and Karim but at the moment they are just two good friends hanging out, they both like each other and are both fans of each other, RiRi is a huge soccer fan and he is a big fan of her music," our source added.
Chris Brown, Rihanna, and Benzema ended up partying at the same nightclub Henry's in West Hollywood last weekend.
Our sources told us that it was mere coincidence but also admitted that RiRi and Breezy still regularly talk to each other.
"Them ended up in the same club was just a coincidence, despite what a lot of people are thinking, RiRi and Chris have remained friends after their split, there is no animosity or bad blood between them," Urban Islandz source revealed.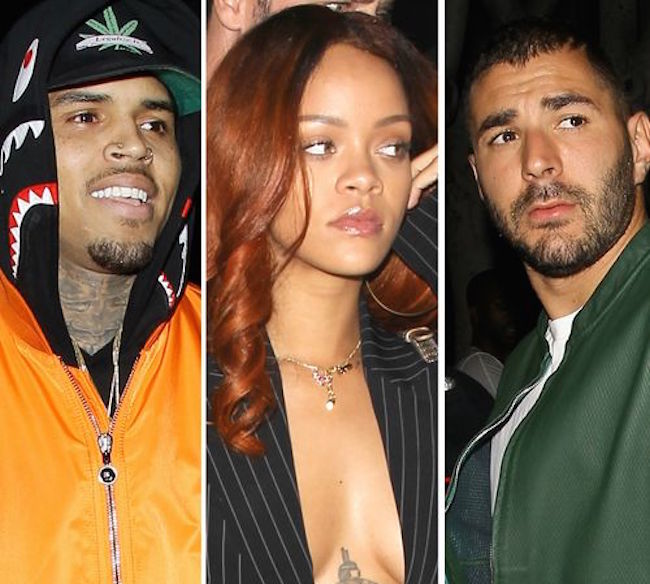 It's hard to believe that Rihanna and Chris Brown still talk to each other given their bitter split in 2013.
But these two have broken up and get back together on several occasions and now that Breezy is single again perhaps he has his eyes set on getting back together with the Roc Nation singer. Maybe this is Benzema's queue to step his game up.
Do you think Rihanna and Chris Brown will get back together?