Chris Brown is trying to move on from Karrueche Tran but that doesn't mean that he is not still bitter.
The "Private Show" singer and his ex-girlfriend have not spoken to each other since their big fight earlier this month outside Playhouse nightclub.
SEE ALSO: Chris Brown Says He Love Karrueche More Than Rihanna
Brown and Tran also had a huge fight on social media days later with the model/actress called out the R&B singer for calling her out during an interview.
"First off @chrisbrownofficial you just did an interview w Ryan Seacrest in which you spoke about me. My interview w Access Hollywood was not entirely about you," Tran wrote on IG.
"Since you want to hear about my career – check out @vanityseries every Thursday on StyleHaul.. Emmy winning @thebaytheseries this Sept and 3 Headed Shark Attack on SyFy next month. Best of luck to you and beautiful Royalty," she continues.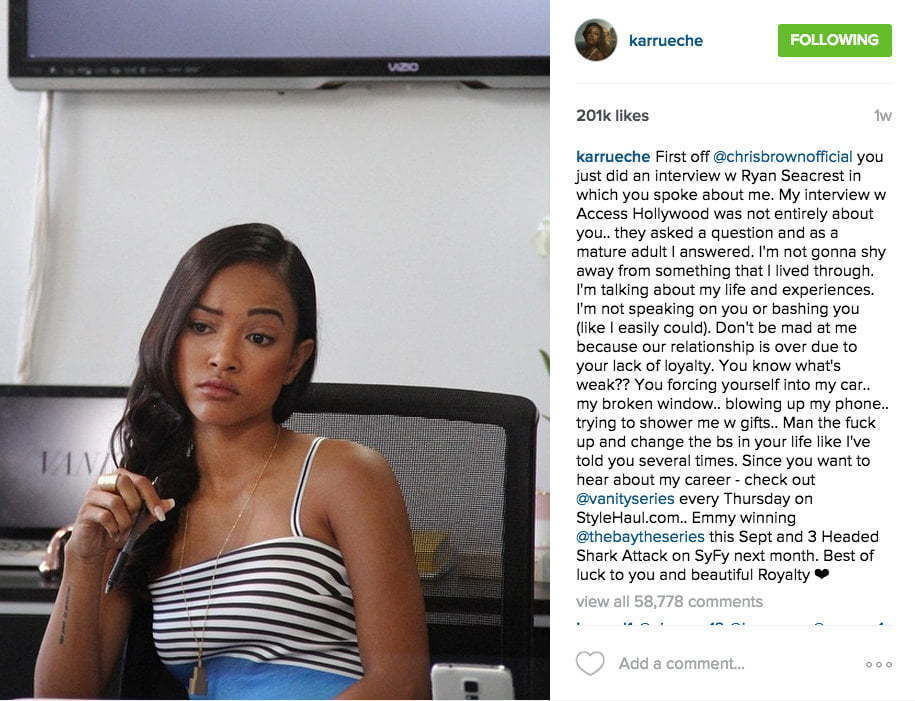 Apparently that statement didn't go down too well with Chris Brown. Sources connected to the former couple told Urban Islandz that Breezy sent Tran a long message cursing her out and telling her that he is responsible for the career that she is now claiming.
"Chris was furious and a lot of folks around him kind of agreed that he is the one who made her become famous," sources told us. "Before Breezy no one knew who Karrueche was so he has a right to feel some type of way about her bragging about her career. So he basically told her that she owe him her career."
"The whole situation is really messed up because at the end of the day he hurt her several times, but he also helped her to become who she is now," our source added.
Our sources also told us that there are no chance of reconciliation at least not anytime soon because both Brown and Karrueche are bitter with each other.
These days you can see Chris Brown on Instagram posting a ton of photos with his adorable 1-year-old daughter Royalty.