Michael Dawson asks individuals in Jamaica with a water issue – no running water, dirty water, low water pressure, frequent lock-offs etc to post pictures so he can bring awareness to the water crisis the poor in Jamaica are currently suffering with. Also pledges to personally donate a bucket of clean water clean water to the poor for each of the first 1000 verifiable pictures or videos posted to web-site internally verified to be authentic. He will also seek to invest in projects that will bring water to those who cannot afford it.
SEE ALSO: Vybz Kartel Not Guilty Verdict, One Year Later
Whilst I applaud any effort to raise funds to fight any disease, I was contacted by some residents of the Gaza in St. Catherine and other Portmore residents who cringed when they saw the Honorable Lisa Hanna take the Ice-Bucket Challenge. Many salivated in the afternoon how a drop from that bucket that was poured over her head could have allowed them to brush their teeth this morning; others were traumatized, remembering how many days and nights they had to curb their natural bodily functions as they did not even have enough water to fill a bucket to flush the toilet; whilst one young mother lamented she could have avoided her infant child's constant diarrhea and vomiting if the Minister of Youth & Culture had spared her that apparently clean water instead of having it thrown away whilst popping her beautiful radiant smile, as clean water does not come to the area where she lives and there is no money to buy from private vendors.
Let me be very clear, I think the Minister was genuine, well intentioned and acted out of an abundance of care for those with the disease and used her notoriety to help and for that she must be applauded. Indeed, the Minister did mention that she knew two people stricken with the disease. The sad thing with these diseases is that they are very hard to detect before it's too late and so far seems non-discriminatory in who it attacks so I am very cognizant that a friend, a love one or even I, can become a victim of it.
However, I think this situation reminded me why Jamaica truly needs a Voice of the Ghetto to highlight the plight of the poor to the powers that be who largely determine their fate but seem oblivious to their struggles based on the draconian effect their policies, decisions and actions have on the less fortunate. As I view Facebook comments and postings, the duplicitous nature of our country and the inability of the rich to identify with the plight of the poor are ominous. I see the majority of my uptown friends laughing and saying how cool this all is and then proceeding to issue more challenges subsequently encouraging the wasting of precious water. Some even go as far as to source even bigger containers than a standard bucket so more water is poured (wasted); adds to the fun I guess. After all, when you can afford two large water tanks; a few gallons of water being wasted is no big deal and if ever you run out of water, uptown you don't have to buy by the bucket, you can buy the entire truck's supply.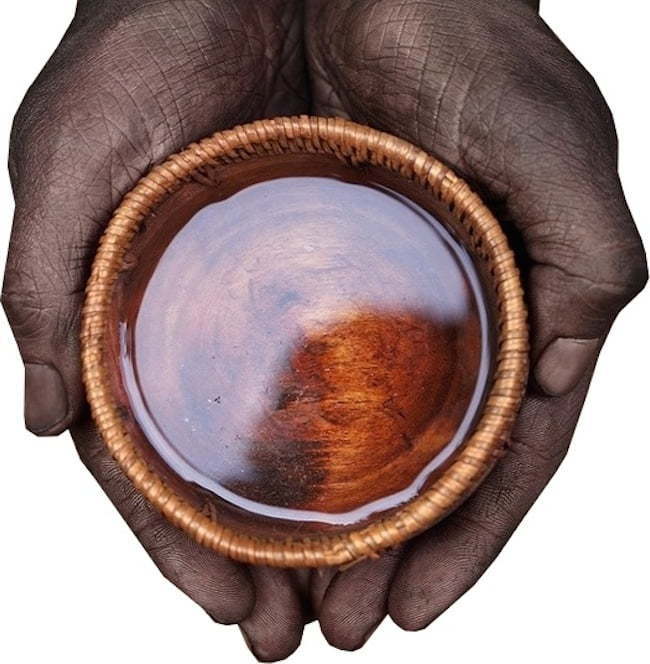 Conversely, I am getting the WTF texts and IMs from my friends who are not uptown asking me how the Minister could be so insensitive – knowing that they have not had proper water for years and as an elected official, as a supposed servant of the people of Jamaica and more so, as Minister of Youth – how could she be so insensitive knowing that last year and the year to come youths will not attend school due to no water being available? In fact, almost all schools in Jamaica have had a water problem and so many poor youths (whose welfare is largely dependent on how she performs as Minister of Youth) suffer illness due to not having clean running water. To make matters worse, her joyous water challenge was followed by news of a request by the education Minister for parents to send children to school with water as the schools do not have enough for operation – curious if they have to do that at the exclusive Private schools too. Talk about adding insult to injury! Ms. Hanna and other celebrities have used their dumping of water to raise concerns for a cause that is dear to them to trigger donations.
I don't think anyone should have a problem with Ms. Lisa Hanna the former Miss World and admired celebrity doing that, but I do understand Jamaicans without water being upset that Minister Hanna, their elected official did not think about the hundreds of thousands of 'waterless' Jamaicans before having a bucket of water (even in the form of ice is still a precious commodity to many) thrown away whilst smiling sitting supposedly around her government desk. Even if Ms. Hanna chose to not concern herself with global issues such as the hundreds of women and children dying of thirst in Iraq while hiding in the mountains from the genocidal ISIS or the people of neighboring Haiti and our brothers in Africa dying from Cholera due to dirty water, it is my view that she should have at least thought of her local constituents. Ms. Hanna, many of them commented that they are sitting up at night, fantasizing about the many hygienic things they could do with that bucket of water that you threw away; perhaps a little wash up, maybe brush their teeth or clean their baby girl after she messes herself to avoid the constant chafing but it will still be a fantasy for them because there is still no water coming from the pipe and no money to buy any.
Over the years, many of us have been asking, begging and imploring government officials to think of the poor before making decisions big and small. It is understood at least by me, that politicians do not understand what the poor go through; I suppose if they did, one Senior politician would ask that the nation preserve every bucket of water that we can find and do as they have now reportedly done in the States – forbid members of Congress and diplomats from taking the challenge. However, I realized the next day that Jamaican politicians are probably figuring out how to spend the anticipated windfall of new revenue that they will earn with the 200% increase in some bus fares. Again, why would they care about the effect on the poor? Their drivers don't even allow them to walk a few feet to the parking lot to step in the air-conditioned tinted government issued luxury SUV, so why care about some poor person who may have to now walk home as they can't afford the bus fare.
Well I for one am fed up and sick and tired of asking the politicians to care. Many did it in songs, "call in programs" and in writing. In fact, in the book Voice of the Jamaican Ghetto that I wrote with Vybz Kartel, we tried to literally speak on poor people's behalf but even though Universities around the world made the book accessible to their students, the system tried to shun it in Jamaica. The system ignored every suggestion to help the poor and eliminate some of the pain of poverty but the bourgeoisie just went on its merry way and continued to raise the cost of basic items for the poor.
They denied access to affordable electricity to many, a failed justice system allowed our youth to continue to die in police custody and there seems to be no change to come. So now, I am even more committed to completing the mission we started with the book; I will put your failure as politicians to serve Jamaica's poor on "blast," yes, there will be pictures and videos of what the poor experience everyday as I will be creating the social media infrastructure, a website and invest in advertising, all dedicated to exposing the way the government has failed the poor.
This is not a threat nor a warning, it's a promise. I won't stop with the water shortage; after highlighting the struggle of the people due to not having water, I am going to highlight those who have bad roads or no roads, inadequate schools and hospitals, injustice in jails and courts and just about everything that has been hidden by politicians about how the majority of Jamaican poor people really live. You don't see many people in the Ghetto pouring ice water on themselves, let alone at work as the Minister did. Partially because unlike Ms. Hanna, they would get fired if they did that and probably don't have a change of clothes because there is no water at home to wash their uniforms.
In closing, I hold no grudge against Ms. Hanna; my grudge is against the system that she is a part of. This innocent act of goodwill on her part, fortunately or unfortunately highlights what I think is wrong with Jamaica and why I teamed up with Vybz Kartel to write a book about same. There is a natural unavoidable disconnect between those who represent the people of Jamaica and the masses, and while I cannot change the disconnect, I can change the fact that people still claim ignorance of what happens to the poor and maybe, just maybe, the next politician who decides to have a bucket of water thrown over their head or double bus fare or tax bank deposits, patties and pad; would just take the time to evaluate how their actions – as simple as they are – will affect the poor. I reiterate, this is not a threat nor a warning – this is a promise to the poor in Jamaica, there will be a louder Voice of the Jamaican Ghetto.