Vybz Kartel new album Kartel Forever: Trilogy is now in stores.
Vybz Kartel, who has been incarcerated for the last two years, has also been busy dropping new singles.
The triple-disc LP features both previously released singles and some new tracks released in the last couple of weeks.
Tad's Records has also released the audio for the full album on soundcloud for fans to listen.
Listen to Kartek Forever: Trilogy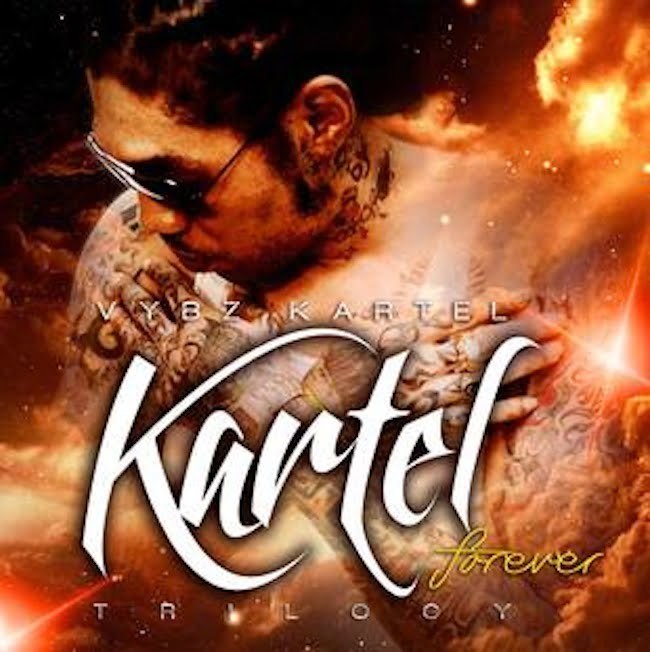 Kartel Forever: Trilogy tracklist:
DISC 1
1. Intro
2. Georgina
3. Business
4. Convertible
5. Nymphomaniac
6. Married and Done (Ft. Gaza Slim) 7. So Much Gal
8. Punani A Mi Best Friend
9. Compass
10. Wine Fi Money
11. Mr. Bleach Chin
12. Drop Top
13. School
14. Lighter
15. Bubble Hard
16. Weed Smoker
17. Hold Me
18. Ever Bless
19. Freaky Gal Pt. 3
20. Right Wine
21. Freaky Gal Pt. 2
22. Benz Punani
23. No Bed
DISC 2
1. Exercise
2. Why Pree (World Boss) 3. Me A Pree
4. Love Yuh Enuh
5. Party Me Sey
6. Summer Time
7. Turn & Wine
8. Bike Back
9. Stuck / Better Can Wuk
10. Dumpa Truck / That Sweet Yuh 11. You Me Need
12. Stronger We Get
13. Dancehall Hero
14. Look Pon We (Ft. Russian)
15. Cake Soap
16. Colouring Book / Tattoo Time Come
17. Straight Jeans & Fitted (Ft. Russian)
18. You and Him Deh (Ft. Sheba)
19. Dandy Shandy
20. So Much Woman (Ft. Gaza Slim)
21. Come Yah Nuh Me Gal
22. Stop Gwaan Like Yuh Tuff (Ft. Gaza Slim)
DISC 3
1. The Cure (Fi Bad Mind) (Ft. Russian) 2. Peanut Shell
3. Dead Already
4. Repatriation (Ft. Gaza Slim)
5. Back to Life
6. Ghetto Life
7. Thank You Jah
8. Jah Jah Watch Over Me
9. Slew Them Like David
10. Sweet Victory
11. Mother's Love
12. Children are Our Future (Ft. Gaza Slim) 13. Jah Love We
14. Real Friends
15. Touch a Button
16. Lyricist