Usain Bolt is the latest celebrity to put their name behind a headphone. The sprint sensation teams up with SOUL Electronics to launch a new line of headphones.
According to Bolt's marketing and brand manager, Gina Ford, the triple world record holder collaboration with the electronic company came from his passion for music.
"Nine out of 10 times, when you see him, he has his headphones on," Gina Ford says. "My coach doesn't recommend music pre-meet. But on my way in the car, I jam to something slow and groovy."
SOUL executive director Len Davis says emphasis was placed on the sound quality and comfortable fit of the headphones. Usain Bolt input in the overall style and functionality.
"The most challenging area for a headphone is to sound really good yet stay in your ear," Davi says. "Given the way an earbud seals in your ear, if you lose the air seal, you lose sound quality."
There are currently two models available, the SL300 Usain Bolt edition with Jamaican colors for over the ear, and the in-ear bud model for specifically for athletes. Davis says the products are sweat and sound proof.
"Having an earbud fit and stay on when you're very active creates some unique challenges for audio. But the product is sweat-proof and designed to be used under the rigors of an athletic, active environment," Davis says.
Bolt also weighs in on the product, saying: "The headset is soundproof, and that is good for when I want to relax. And it fits on my head perfectly."
Bolt will be appearing in the upcoming "SOUL of Greatness" marketing webseries in a 30-second spot filmed at his home base and track in Kingston, Jamaica.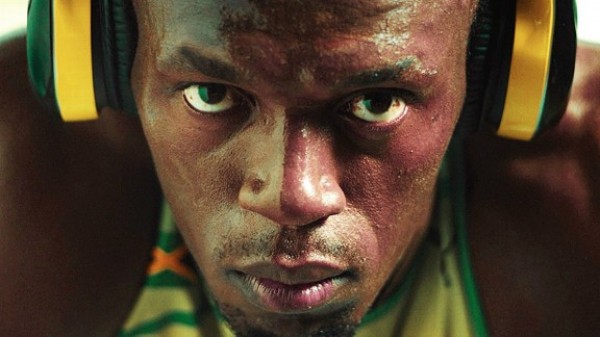 gallery