The many women who were calling out Usain Bolt for dating Slovakian fashion designer Lubica Slovak may have gotten their hearts desire.
According to word reaching Urban Islandz, the couple called it quit a mere six months since their relationship started. Last month a source close to the sprinter told Urban Islandz that the two are in a serious relationship and are very much in love.
"Their relationship is serious and they are very much in love and supportive of each other," the source said.
However, that love was short lived. The said source confirmed to us that the two mutually agreed to split last weekend.
"It was a mutual decision between two adults," the source told Urban Islandz. "People are going to say things like 'I told you so' but people should stay out of Usain's life, he is a grown man," the source added.
According to the source, Bolt wants to channel his focus on the upcoming 2012 Olympic Games in London and does not want the distraction associated with the relationship.
After breaking the story of the two dating in March, tons of angry comments poured into Urban Islandz from women all over the world criticizing Bolt for dating a white woman.
Sources close to Lubica told Urban Islandz that she was being constantly harassed by angry females accusing her of stealing their men.
"Gal gwaan back a yo country and left wi man dem," one woman said to her on Twitter.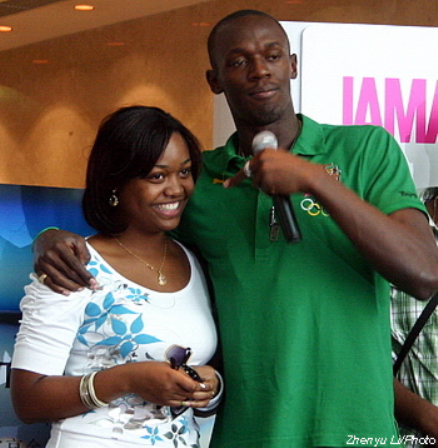 Additional reports also hinted at a possible reconnection between Usain Bolt and his first love Mizicann Evans.
Evans was spotted with Bolt's parents at the Jamaica National (JN) Invitational meet at the National Stadium in Kingston last weekend.
Do you think Usain Bolt and Lubica bucked under the pressure?