Although information is still sketchy, Chris Brown, Drake and Meek Mill club fight photos revealed how bad the situation was.
Earlier today Chris Brown tweeted a photo of his bloody chin from the alleged altercation. New photos from the brawl revealed smashed bottles all over club WIP in New York City.
According to reports, Drake and Meek Mill were partying at Sin City Gentleman's Club in the Bronx with Maybach Music Group honcho Rick Ross and others at their Self Made Vol. 2 listening session. Drizzy and his friend Meek Mill later turned up at club WIP in Manhattan where Chris Brown was partying with friends. a fight ensued and bottles start throwing all over the club.
Early reports suggest that five people were injured including Chris Brown, who suffered a bloody chin. Other reports cast the blame on Meek Mill for instigating the fight.
New York City promoter Jessica Rosenblum tweeted: "Really??? FU Meek Mills – u know how many fing years we worked to have fly hip hop sh-t in downtown NYC? GTFO if u don't know how 2 hang."
See before and after photos of the fight below.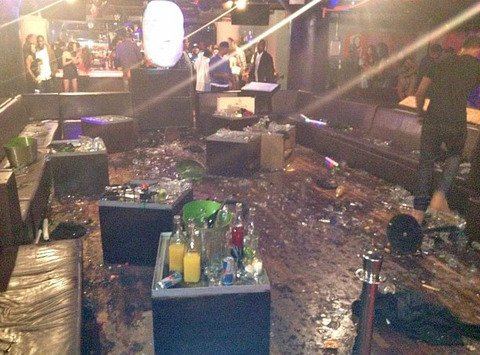 gallery