Chris Brown and Drake are still fighting over Rihanna. According to reports the singer and the rapper caused a brawl in a New York City club last night.
Both Chris Brown and Drake were at WIP nightclub in Manhattan when Drake allegedly throws a bottle at the "Turn Up The Music" singer. Brown tweeted a photo with a gush on his chin late last night.
Eyewitness says both Chris Brown and Drake turned up at the club with separate entourage. Brown allegedly sent a bottle of Champagne over to Drake. Drake became infuriated and went over face to face with Chris Brown and and punched him in the face.
Other report alleges Meek Mill may have pushed Drake to start the fight. Earlier this month, Meek Mill, Drake and Chris Brown were involved in a huge Twitter beef just weeks after rumors surfaced that the Maybach rapper and Rihanna are dating.
After the allege incident, Chris Brown sound off on Twitter.
"Ni–as throwing bottles! Y'all ni*gaz weak!
Ok! Ni*-as stand behind security!!!!
Ok! U don't pay them enough!
Ni*-as hiding in the bathroom b–ch a$$ ni–as!
And I'm the singer?
Lol How u party wit a rich ni–a that hate? Lol….
Throwing bottles like girls? #shameonya!"
NYPD were reportedly called in and arrived on the scene between 4 and 5am.
Both parties left the club before cops arrived.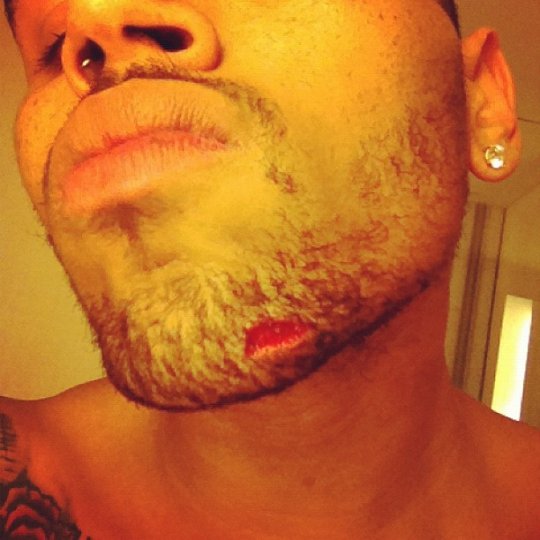 Chris Brown tweeted the above photo of his busted chin and what appears to be blood coming from his nose.