Lil Uzi Vert says he has a lot going on mentally and just wants to finish his last album in peace and be done.
Amidst all the drama with his girlfriend at the BET Awards earlier this year being rehashed by the City Girls rapper in an interview yesterday, Lil Uzi took to Instagram to vent about his current emotional and mental state. While it's easy to think that the rapper would be doing well considering his major commercial success, Uzi issued what some fans perceive as a cry for help in a series of Instagram stories.
The "Just Wanna Rock" hitmaker spoke about issues with his family, relationship, and his journey to happiness, adding that he is really stressed out and has been distant. "This time I won't let anybody stop my journey to happiness or being one of the greatest musicians ever," he began. "My last album will definitely help you remember who is the one. Thank you again."
In the Instagram Story that followed, the rapper opened up further about what he's been going through. "The most attention I could get is by dropping music," he continued. "I understand y'all don't believe me but it starts with me [to] show you that I'm actually serious. I'm very stressed out and done with so many [voices] controlling my life; it's like I never lived for me."
"I would give up all the money and perks that this comes with [to] live a perfectly normal life I'm okay with…" he added.
Lil Uzi Vert went on to allude to contractual obligations with his label, sharing that he has one last album to give them before his smile can be sincere again. "Why not stop now because business doesn't work like that," he explained. "I have one more album [to] turn in after that I finally can genuinely smile."
He continued: "I've been getting judged from day 1. I never respond [to] negativity. I have a [talent] but I also have a heart and have been holding in a lot…. I'm not as close to my family as I should be. My relationship isn't in the best shape. I JUST WANNA BREATHE."
Lil Uzi Vert went on to express his gratitude to his fans even though he is struggling mentally right now. "But don't get me wrong, I have a lot of supporters that love me and love what I do," he wrote. "I've also changed many lives and every single one of y'all changed my life. I can never repay my fans for the blessing that you gave me."
"I've been distant from everyone lately even if they are standing right next to me," he added.
Earlier this year, in June at the BET Awards, Uzi inadvertently ended up in an altercation with his girlfriend JT, who flung her phone at him and called him a "b***h and a "groupie."
Fans quickly speculated that the Florida rapper was livid because Lil Uzi Vert was sitting next to Ice Spice, who he also happened to shout out in his performance during a rendition of a new song that name-dropped her. While JT let the rumors float around for a while, she had the chance to clear the air in a recent interview on the Breakfast Club.
During the chat, the City Girls rapper revealed that it was never about Ice Spice at all, but instead rapper and Uzi's friend ASAP Bari, who she says should have given her his seat when Uzi brought her over. Instead, they had her standing there looking rather out-of-place for what we can only assume was a mortifying moment for her at the televised event – her girlfriend status and elegant get-up considered.
Bari has since reacted to the interview by calling JT out her name. In a post on his Instagram Stories, the rapper shared a screenshot from his timeline of JT in the interview with messages scribed over the image saying, "He ain't want you [sitting] there d***y b***h," "Stop lying," "She was really mad about Ice Spice not about me" and "B***h sold 6k talking about me."
Fans found the post majorly disrespectful and, in turn, called out Lil Uzi Vert for not defending JT. Meanwhile, others were upset that so many were ignoring his obvious signs of mental decline to bash him about the lengths of his allegiance to his girlfriend. "Shouldn't have said nothing if he wasn't going to step for his lady," one fan wrote with a sad face emoji. "JT ain't throw that phone hard enough," another commenter quipped.
In response to the overwhelming comments about the relationship drama, one Uzi stan chimed, "This is a cry for help and y'all talking about JT." A similar sentiment came from another stan who wrote, "This is way louder than that drama! Praying for his mental! It's so sad to hear artists stuck in these contracts and can't do what they love."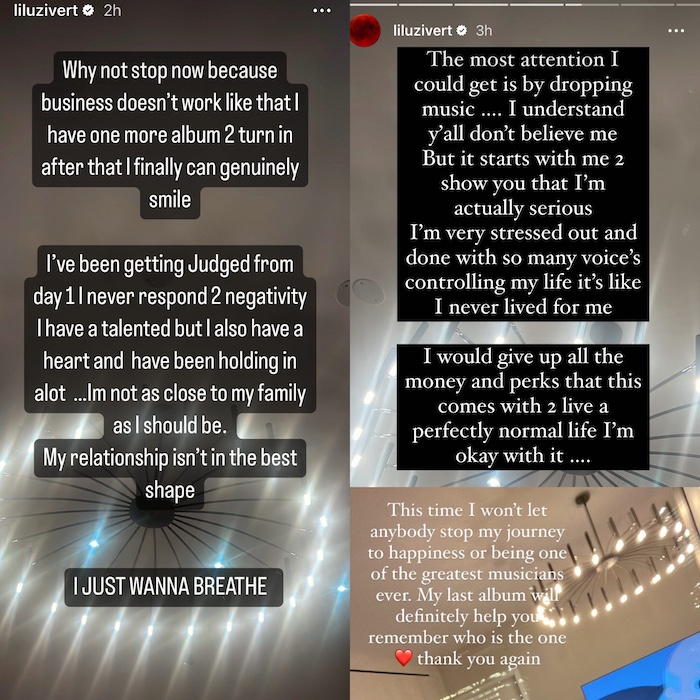 One fan blazed to Uzi's defense and attempted to put things into perspective when she wrote, "He's telling y'all that he doesn't want the drama, he just wants to breathe and have a clear mind to finish his project. There's absolutely nothing wrong with that. So many artists overdose on drugs, lose their minds, etc. trying to please their fans, families, etc. He just wants to breathe…let him breathe in peace."
Lil Uzi Vert is eyeing early retirement as his next album Luv Is Rage 3 will settle his agreement with his label Generation Now under Atlantic Records, finally making him a free man. His last studio album, Pink Tape, arrived at the end of June and was the first rap album to top the Billboard 200 chart this year. The project spawned double Platinum-certified hit "Just Wanna Rock," which became his seventh top-10 hit on the Billboard Hot 100.