Vybz Kartel is in a reflective mood as he shared how much he was in love with fellow artiste Vanessa Bling and that she had been pregnant for him but lost the baby.
Vanessa was just 19 years old when she joined Vybz Kartel's Portmore Empire, also known as the Gaza, under the name Vanessa Bling. Her music started three years prior, but it was with Vybz Kartel's label she saw success with her career after releasing her hit song "One Man."
Vanessa Bling would go on to release the song "Everything Fi Hold Him" and a string of collaborations. While her music hit, the artiste was also suspected to be singing about Kartel, who was also her mentor and suspected boyfriend. The rumors were confirmed when she tattooed his name on her shoulder.
Being a ride-or-die, Vanessa was also caught up in Vybz Kartel's murder trial and was arrested for conspiracy and attempting to pervert the course of justice in relation to allegations that she and another person attempted to interfere with witnesses in the Kartel trial.
Their relationship fell apart after that, and neither has spoken about the relationship until now.
According to Vybz Kartel, in a post on his label page, he was in love with Vanessa while she was his artiste and even wrote her songs. "Me did love da likkle mawga gyal ya isi, you can tell by the calibre of songs I wrote for her #tbt @vybzkartel x #gazaslim," he wrote.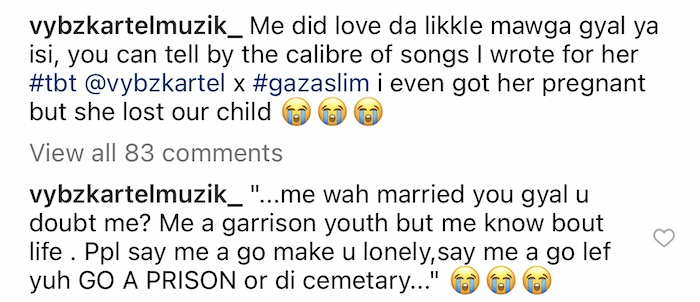 The artiste appeared to get emotional as he revealed that they were expecting a child. "I even got her pregnant but she lost our child," the artiste wrote with crying emojis. Kartel has since changed the caption to promote his new song "Mind Your Own Business."
Now, the post may not be news for some, but it still raises eyebrows as Vybz Kartel was in a committed relationship with the mother of three of his children, Tanesha "Shorty" Johnson.
Johnson has not spoken about her break up with Vybz Kartel. However, the "Fever" artiste has moved on and is now engaged to a woman, Sidem Ozturk, who claims that they have been together for seven (7) years- also while he was with Shorty.