Baton Rouge rapper NBA YoungBoy is mourning the death of one of his friends. The rapper shared a video of himself crying on Wednesday morning as he shared disbelief that his friend is no more.
"Y'all killed my lil n***g homie. Y'all killed my n***ga, son. Y'all made me cry this morning, boy," YoungBoy says in the dark as he sniffles on the video.
Lil Durk, who has an active beef with YoungBoy, also seemed to react to the 'Top' rapper's post as he mentioned his late brother and that NBA YoungBoy might have been the real target.
"On dthang I seen that post you very outstanding," Lil Durk said in an Instagram story that did not mention a name.
After fans condemned Lil Durk for the post, he later shared other stories where he clarified that his first post was taken out of context.
"That's just to show you how they want to break us down im talking bout a chairity event [throphy emoji] thank y'all," he wrote.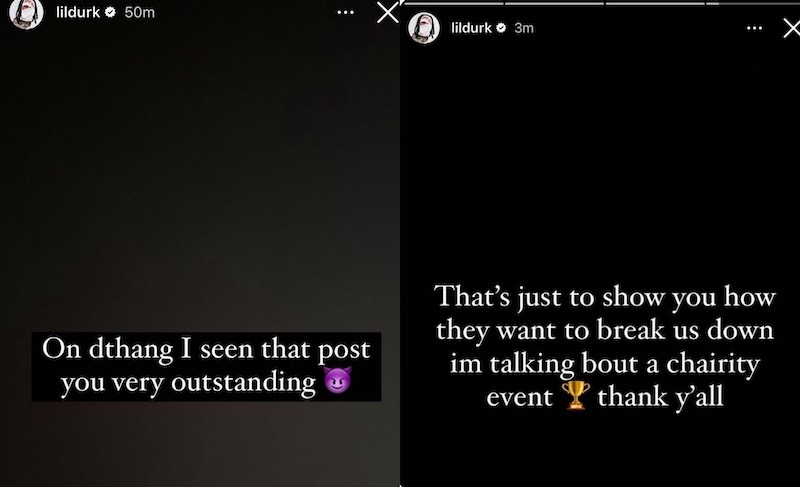 Durk and YoungBoy's beef goes way back, and despite the years passing, it has not subsided but rather got worse after the beef between YoungBoy's artist Quando Rondo and Lil Durk's best friend, King Von, who was shot and killed on November 6, 2020. King Von was shot by Quando's mate Lul Tim after a confrontation in front of an Atlanta nightclub.
It's suspected that King Von's killing has also led to a series of reprisal killings in his native Chicago and gang, O-Block, with another gang Quando Rondo is associated with.
Lil Durk's brother, Dontay 'DThang' Banks, was killed in June 2021 outside of a nightclub. His death is said to be because of disputes with a rival gang. The rapper had also lost his producer, Turn Me Up Josh, months before DThang's killing.
In the meantime, YoungBoy has been promoting his 'stop the violence' mantra since late last year.
Despite calls within the hip hop community for Lil Durk and NBA YoungBoy to end their beef, the two rappers are showing no signs that will ever happen.
NBA YoungBoy cried on Live when he shared his friend passed awayhttps://t.co/CV74zBFfrG pic.twitter.com/cIUXUNC2hd

— Urban Islandz (@urbanislandz) June 21, 2023