Nicki Minaj made a rare appearance on social media on Saturday to share a video of her new soca single "Shake The Place," and she also popped in to wish fellow Caribbean girl Rihanna good blessings following her pregnancy announcement.
Rihanna debuted by second pregnancy during her Half Time performance on February 12. The surprise announcement appeared to be planned by Rihanna, who confirmed the news shortly after through her publicist.
In the last week, Rihanna finally gave the world a good look at her baby boy, born in May 2022. The artist and her partner, A$AP Rocky, were featured in British Vogue, where she spoke about motherhood, music, paparazzi, and how she feels at this stage of her life.
The artist also shared a sweet post of her and her son on her Instagram account, noting that she was posing with both of her kids, but neither of them could have known as the photo shoot took place weeks before the Super Bowl announcement.
Nicki Minaj also shared a sweet message of congratulations to Rihanna. The two women are known to be very close, and Rihanna is also part of Minaj's circle and has seen her son before the world got its first glimpse at Papa Bear.
"A lil pretty boy already," Minaj wrote in a comment on Rihanna's profile as she referred to what Caribbean folks say about a baby's personality and swagger.
"Congratulations on the new bundle of joy, Queen. Bodies Super Bowl," Minaj added with a kissing face emoji.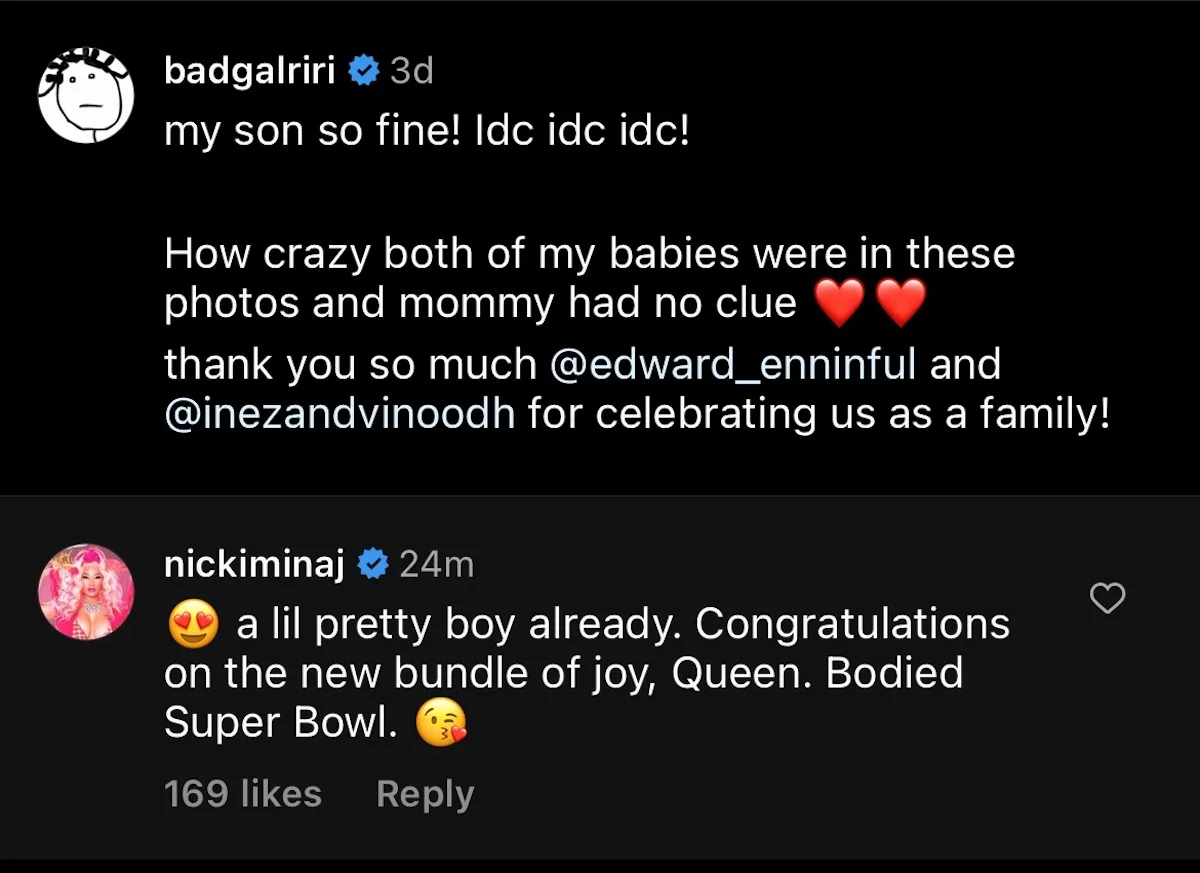 Nicki Minaj was among the first people who publicly congratulated Rihanna on her first pregnancy in 2022 after she posed in a long coat with her pregnant belly showing out.
"So happy for you mama. Conquered the world already. Given so much. Nothing left to prove. you deserve your own little gift now. Different level of joy that money can't buy."
Nicki Minaj, like Rihanna, has also spoken about the joys of motherhood after welcoming her baby boy with Kenneth Petty in September 2020.