Trina and Yung Miami are sitting down for the upcoming episode of "Caresha Please" on REVOLT as the "Single Again" artist was grilled on a series of things, including a rumor pairing her with Missy Elliot.
Trina is Yung Miami's Godmother, and their on-air chemistry is very funny as the women relate at ease while Miami asks her a series of questions fans are burning to get answered.
A preview of the upcoming show has some interesting soundbites with the City Girls rapper's Godmother taking up for her in what seems to be encouragement after the drama with Diddy having a child with another woman in October and revealing it in December.
Yung Miami appeared bothered and stunned after the announcement and didn't deny that she had been in the dark about the new baby when DJ Akademiks took her on over her decision to continue to date, Diddy. "It's hard to find another vibe," Yung Miami boasts.
Trina quickly adds, "I don't care what she doing over here, I don't care she doing in Canada, I don't care what the bi*ch doing in Europe, It's not giving the vibe that Caresha [is] giving. Don't get that twisted."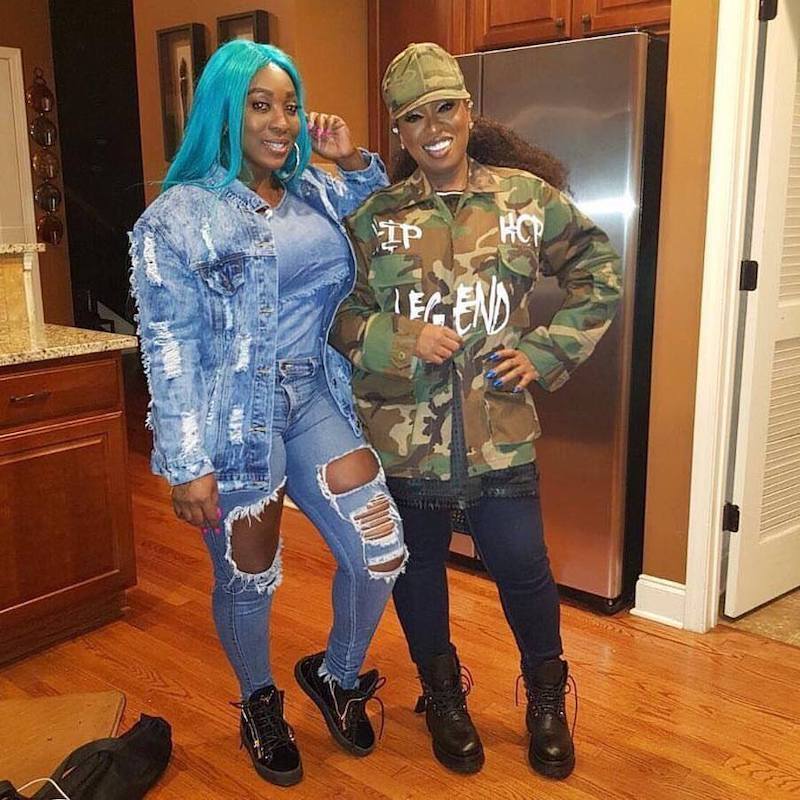 Yung Miami also co-signs the message saying, "Let me get a Caresha Please!"
The pair then talks about Trick Daddy, with whom she previously worked with on "Nann," but the two have had an on-and-off beef over the years as members of the Love & Hip Hop cast. "Just be quiet Trick, just be quiet, Trick," Trina says.
Yung Miami also asked the "Here We Go" rapper whether it's true that she dated Yung Miami. The clip only has crickets before transitioning to another clip with Yung Miami asking Trina to pick someone to date. The options are messy though.
"Lil Wayne or French Montana?" Yung Miami asks Trina. "You better not, you better not," Trina says sternly.
Trina and Lil Wayne began dating in 2005, and within months they became engaged. However, the relationship ended around 2007. She went on to Kenyon Martin, but what shocked fans were she and French Montana reportedly dated from 2012- 2014. The couple reportedly split because Montana was also seeing Khloe Kardashian.
Miami also ensured she asked about the rapper's sexual preference. "Head or sex?" she asked, and Trina was a little too passionate in her response, drawing a big laugh from Miami. "I don't care if it takes you two hours, you're gonna s*** it until I c**. I'm serious."
The new show is set to air on Thursday, January 19.