Boosie Badazz is bigging up Bobby Shmurda for facing his time in prison while seemingly taking a few jabs at Tekashi 6x9ine.
Hip-Hop veteran Boosie Badazz is patiently awaiting Bobby Shmurda's release from jail, as is the rest of the rap community. In the aftermath of the Tekashi 6ix9ine racketeering case that put the rapper on the stand in federal court against his gang associates, the culture has praised Bobby Shmurda, who did the complete opposite and refused to snitch. In 2016 the Brooklyn MC was sentenced to seven years in prison after pleading guilty to weapons charges, and according to Lil Boosie, Bobby Shmurda is as solid as they come.
"SOLID AS A ROCK ?? it's a shame how the world don't glorify the REAL ONES SMH #freesmurda ??," Boosie posted to Instagram Sunday. "rats get mo love then the stand up guys FAKE A*S INDUSTRY ?? THEY WANT ALL THE REAL ONES OUT THE GAME THEY NEVER ACKNOWLEDGE THE REAL SMH Maybe its time for the real to EXTORT THE FAKE ?? WHO DOWN TO TAKE THESE NI**AS SH*T WHO P**SY ?"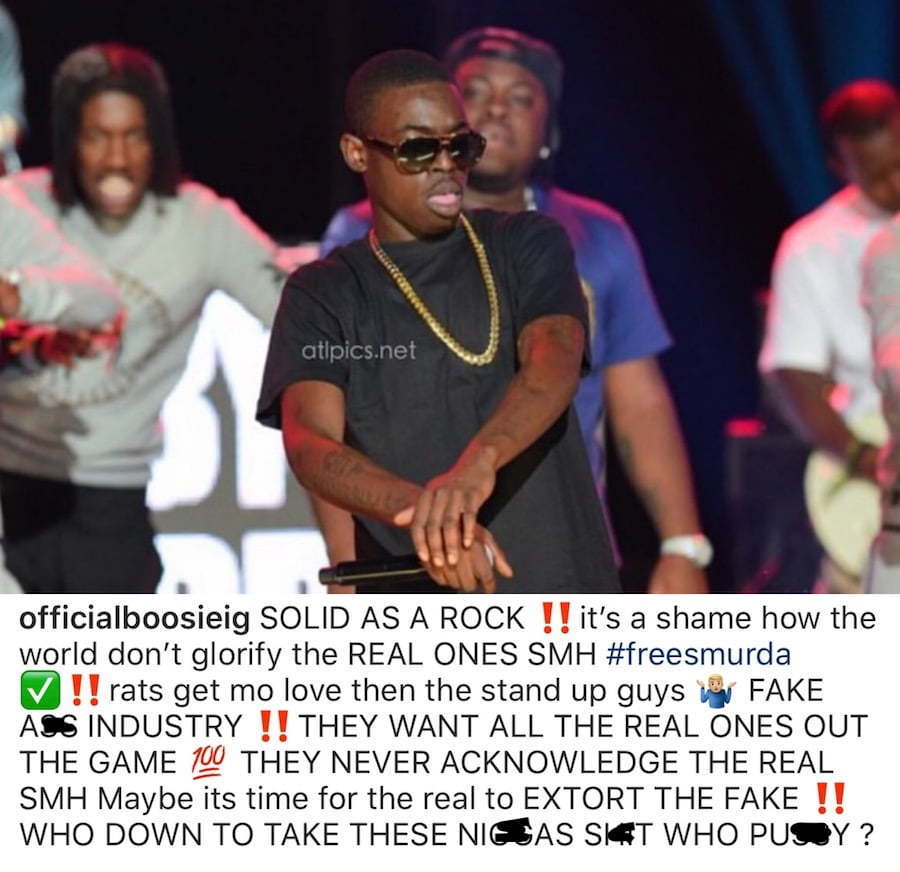 No word on the timing of the post other than maybe Boosie was just reflecting on the fact that Tekashi 6ix9ine may be out of prison by the end of this year. Meanwhile, Bobby has a parole hearing scheduled for August 2020, and the "Hot Ni**a" rapper could be as home as early as next December. He reportedly took the plea deal so that is associate and co-defendant Rowdy Rebel would get less time in prison. A move like that is seen as nothing but honorable in the culture, so whenever Bobby does touch down, he is sure to be greeted from the music industry with open arms.