Tay-K is speaking out from prison, and he wants his fans to know that he is sorry.
Long Beach rapper, Tay-K, is not happy about the media coverage that he has been getting in light of his murder conviction and subsequent life sentence. The 19-year-old rapper, whose real name is Taymor McIntyre, was found guilty of the murder in July for the death of 21-year-old Ethan Walker, who was killed in a home invasion robbery in 2016. McIntyre was sentenced to 55 years in prison and fined $21000 for his role in the crime.
Last week, Tay-K was indicted on a second murder charge for the killing of 23-year-old photographer Mark Anthony Saldivar. According to reports, the rapper shot and killed Saldivar during a robbery incident in 2017 while on the run from law enforcement. A conviction could see him getting the death penalty.
Tay-K 47 is now speaking out, claiming that he is not perfect, but is certainly not the monster the media is making him out to be. "I wanna apologize to all my fans and supporters for letting my management and label convince me that it wouldn't be a good decision to speak out against the way the media makes me look and the complete lies they spread," he tweeted from prison on Saturday.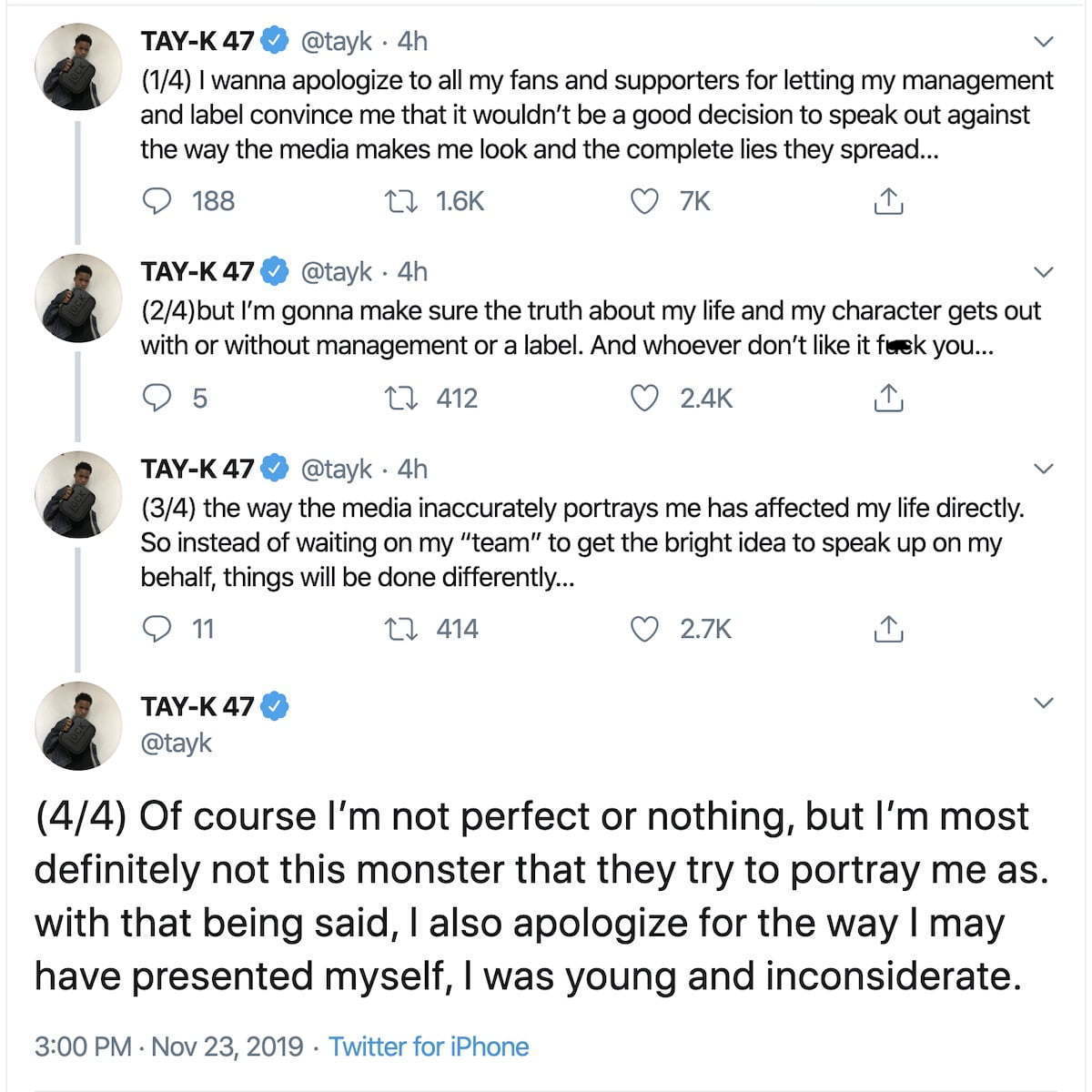 "Of course I'm not perfect or nothing, but I'm most definitely not this monster that they try to portray me as. with that being said, I also apologize for the way I may have presented myself, I was young and inconsiderate," the teenage rapper added.
Tay-K scored a platinum-selling single, "The Race," while he was on the run from the feds in 2017. The song went on to become one of the hottest rap songs that year. By early 2018, "The Race" was already certified platinum, and K was behind bars awaiting trial for murder.
"The way the media inaccurately portrays me has affected my life directly," Tay-K continues on Twitter. "So instead of waiting on my "team" to get the bright idea to speak up on my behalf, things will be done differently."