"The Race" is certainly over for teenage rapper Tay-K who was sentenced to 55 years in prison.
Days after being found guilty for the murder of 21-year-old Ethan Walker, 19-year-old rapper Tay-K received a 55-year sentence in a Texas courtroom, Fort Worth Star-Telegram's Deanna Boyd, confirmed on Twitter. The judge handed down the sentencing after a day and a half of sentencing hearing where an elderly man, who was reportedly robbed and beaten by the rapper, gave testimony. Tay-K's platinum-selling hit song "The Race" music video was also played in court during his sentencing hearing.
Boyd reported that the rapper, whose real name is Taymor McIntyre, was fined $10,000 fine for his murder conviction and a $5,000 fine on one count of aggravated robbery. McIntyre had pleaded guilty to an aggravated robbery at the beginning of his murder trial last week. However, he maintained that he is innocent of the capital murder charge because he had not known that a murder would be committed.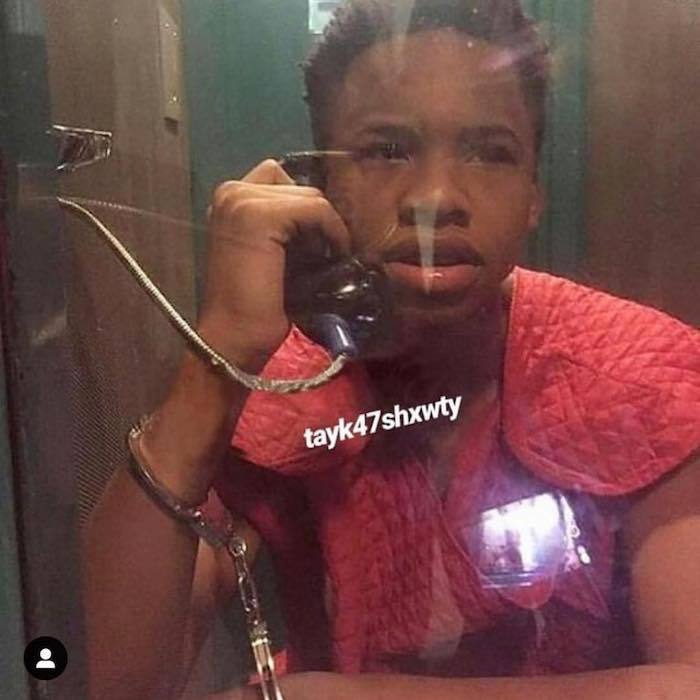 One of Tay-K's attorneys, Jeff Kearney, argued in court that while his client willingly participated in the home invasion that claimed the life of Ethan Walker, he had no way of knowing that his associate, Latharian Merritt, was going to kill the victim. The prosecution painted a vivid picture which argued against the core defense argument.
Additionally, one of Tay-K's associates testified against him in court, saying that she had recruited the rapper to help her and one of her friends to rob her boyfriend. The prosecution shared text messages between the co-accused where Tay-K asked to borrow a gun to use in the robbery. Prosecutors say that's a clear decision to commit a murder. That associate pleaded guilty to the crime and was sentenced to 25 years.
Tay-K's legal troubles may not be over. Police are of the belief that he murdered photographer Mark Saldivar at a Chick-Fil-A in San Antonia, Texas while trying to steal the photographer's equipment.
Rapper @tayk sentenced to 55 years in prison for his role in the 2016 murder of Ethan Walker, 21. https://t.co/tU8phV9c80

— Deanna Boyd (@deannaboyd) July 23, 2019