Ari Lennox isn't hiding her feelings about being snubbed by the Soul Train Awards.
Award shows can mean a lot to artists who are looking to be recognized for the hard work they put into their music, but let's be honest — these awards don't always get it right. And now the 2019 BET Soul Train Awards have come under fire from R&B star Ari Lennox and her fanbase who feel like she was snubbed of the Album/Mixtape of the year award. The honor was given to Lizzo instead of Ari, who was nominated for her debut album Shea Butter Baby. Yesterday, Ari Lennox went on a brief Twitter rant to express her frustrations to losing to an artist like Lizzo, who most would consider pop and mainstream and wouldn't really qualify under the genre of soul.
But since Ari made her feelings known, she's gotten mixed reactions from fans. While some say she has every right to feel snubbed, others called her entitled for thinking that she automatically deserved the recognition. But the criticism didn't change her mind, and Ari returned to Twitter Tuesday to defend her point of view. "You know what I realized? People who genuinely f*ck with me understand my frustration," she tweeted this afternoon. "People who are self hating haters and clearly have never given my music a chance got the biggest problem with me always. No one will have to worry about me complaining after this current complaint. Lol what I will not do is ever be this depressed again."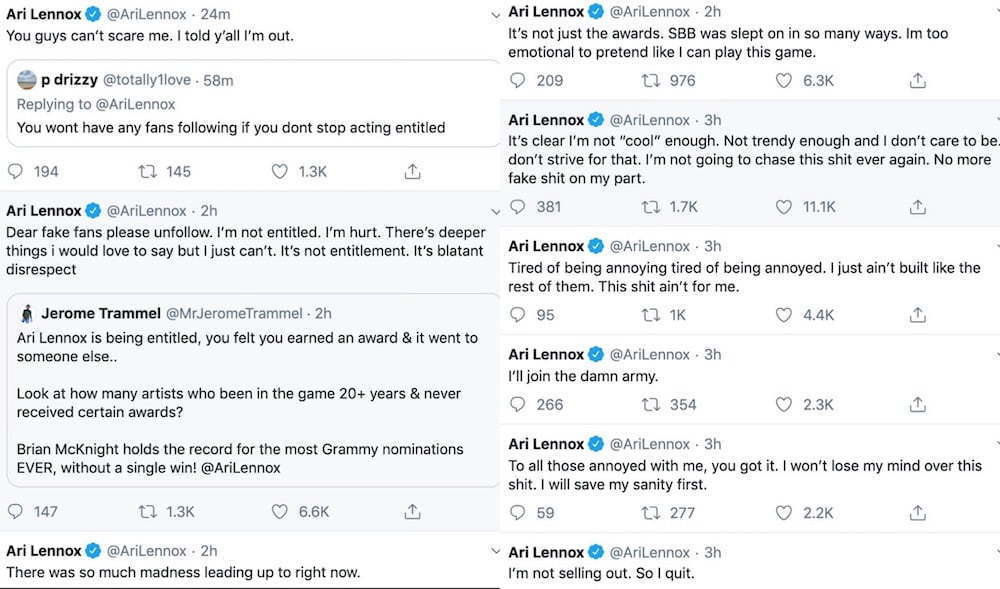 It's clear that Ari is taking this loss to heart, and she went on to explain why this particular award was so personal for her. "It's not just an award. It wasn't any award show. It was the soul train awards. As you can see I'm big fan of soul music and huge fan of soul trains history. Being snubbed was something I always expected and was definitely prepared for just not by them."
While her original sentiments were taken as shade towards Lizzo, who won for her album Cuz I Love You that went top 5 on the Billboard 200 charts, Ari made sure to say she wasn't attacking her female songstress counterpart in any way. "My intent was to never shade other nominees. I'm hurt and I don't expect soulless haters to understand that. Everytime I wrap my mind around it I just can't accept it. It feels like a break up. I made a soulful album. I never ran from who I am. I just expected that one platform to understand that."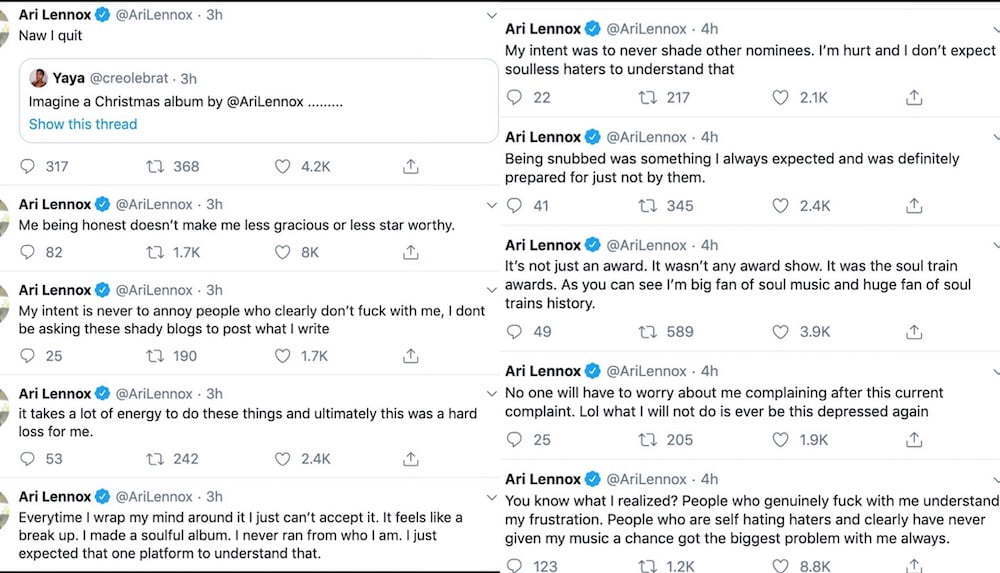 As fans went back in forth in her mentions, the "New Apartment" singer that is signed to J. Cole's Dreamville label said she should be allowed to be vulnerable and speak her truth no matter what. "My intent is never to annoy people who clearly don't f*ck with me, I dont be asking these shady blogs to post what I write. Me being honest doesn't make me less gracious or less star worthy. … It's clear I'm not "cool" enough. Not trendy enough and I don't care to be. I don't strive for that. I'm not going to chase this sh*t ever again. No more fake sh*t on my part
It's not just the awards. SBB was slept on in so many ways. Im too emotional to pretend like I can play this game."
Ari said she plans on quitting the music business to avoid feeling these frustrations again. We hope that isn't true and that she can continue making music that her core fanbase loves.
Anybody black who lost a soul music award to Lizzo should be upset. Lol https://t.co/pur5miw5sE

— Larry Legend (@larryislegend) November 19, 2019
Nothing about Lizzo is soul.

— Kitchen Beautician. (@JLaCocaina) November 19, 2019
At first I didn't understand why Ari Lennox was so upset about not winning the Soul Train award. But now I just found out that she lost to Lizzo and I completely understand LMAOOO. I would be mad too

— Ghanaditian (@bukkyismyname) November 19, 2019
I know this: there's an energy out if people are going after Lizzo when all she did here was collect her things and mind her business. I also know this: If the shoe was on the other foot, folk would not accept a single second of her venting publicly about losing an award.

— Craig Bro Dude (@CraigSJ) November 19, 2019