Blueface takes more shots at Nipsey Hussle, a sign that he didn't learn any lessons from Kodak Black.
You can recall earlier this year when Kodak Black got canceled for shooting shots at Nipsey Hussle's widow, Lauren London. Fans, rappers, and radio stations all came down heavy on the Florida rapper, who later apologized. Blueface is not looking to be compared to any other artiste in the business, especially Nipsey Hussle. He posted a powerful image and message to his Instagram live yesterday. The image captures an unpulled bag of US dollars with a nice stack of Euros accompanying it. He captions it, "Don't compare me to no artist that hasn't done a world tour, I'm past the whole east coast west coast thing. I'm international with this shyt dead homies."
Blueface and his manager, Wack 100, felt the full force of Nipsey's supporters when Wack 100 made comments surrounding the untimely death of the California rapper. Blueface came under heavy criticism for not putting a stop to what his manager was saying and seemingly supporting him by laughing and smiling as Wack commented that Eric Holder was in his right as a gangster to kill Nip.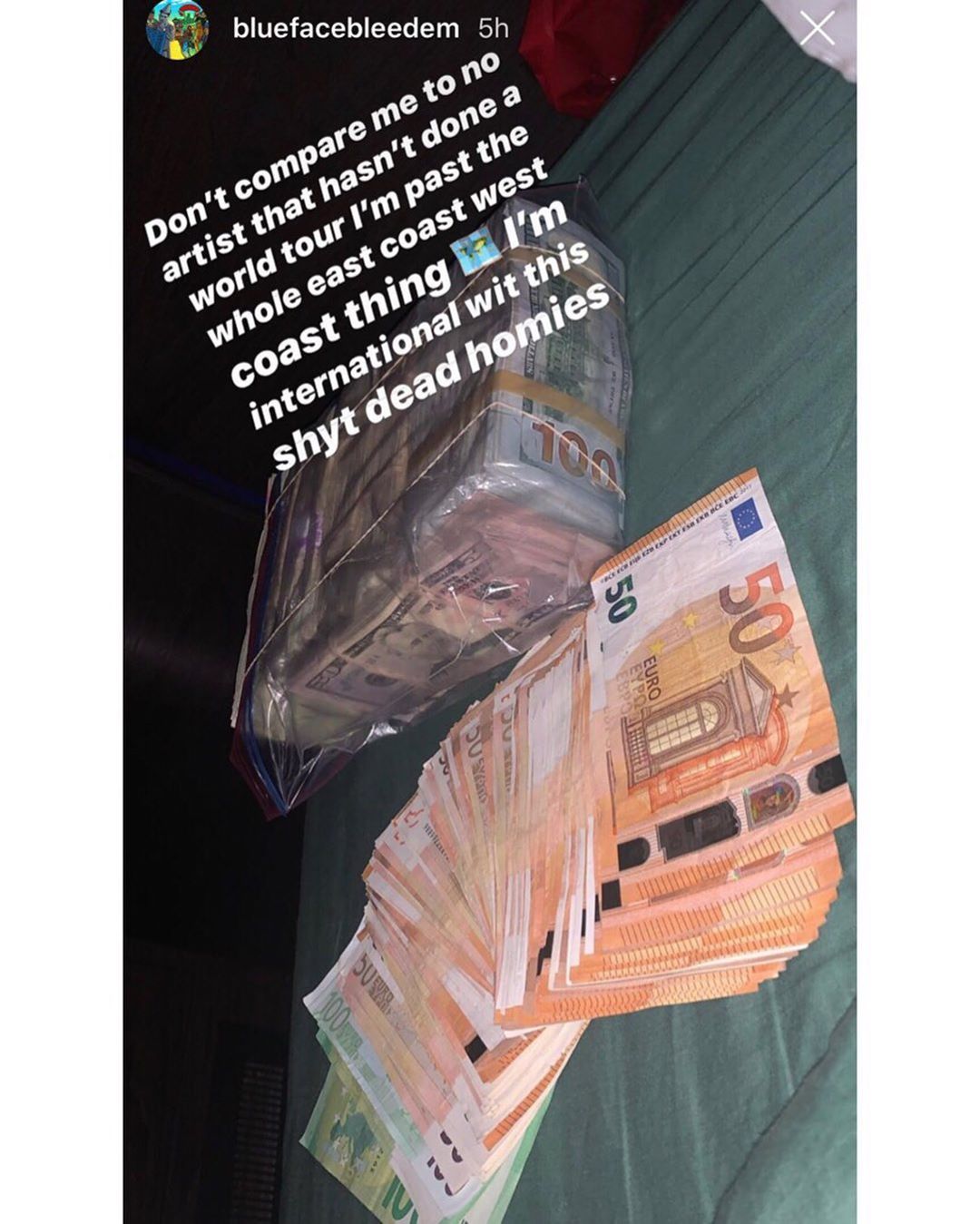 Wack 100 questioned Nipsey's success before his death while suggesting that fans are now showing him a lot of fake love. Like his artiste, the self-proclaimed gangbanger suggested that the Crenshaw rapper never went on a world tour and never had a platinum record before his death. While it's true that Nipsey's record sales surged significantly after his death, it's also true that every artiste experienced that surge after death. That does not discount the impact they had before their passing.
The fact that Wack is managing Blueface, he was instantly being compared to the slain rapper. Nipsey Hussle's artist Killa Twan also came out after Blue and Wack threatened to put hands on them. It seems the "Thotiana" rapper is now publicly defending himself, showing he has some quality to be placed on tour in Europe. The rapper's UK tour is scheduled to start tomorrow, November 15, Club Blu, Rotterdam, Netherlands.
Some folks may argue that Blueface and Kodak Black situations are different, but they both disrespected Nipsey Hussle, who is not here to defend himself. The question now is, how should the hip hop community react to Blueface dissing the late rapper? Should he be censored for it, or is the culture more accepting of these types of antics?