Shenseea is getting trolled by dancehall fans as she failed to respond to Jada Kingdom diss track.
Jada Kingdom has slapped Spice, Stylo G, and Sean Paul's Dumplin remix out of the local YouTube trending spot in less than 24 hours, with her "Shen-Heng" lyrical attack, on Romeich Entertainment home girl Shenseea. Since the youngster posted the music video early Monday morning, it has racked up more than a quarter of a million views. Jada seems to be enjoying the effect the lyrical onslaught has had on her former friend who started the battle on Saturday night at the Red Bull Culture Clash event at the National Arena in Kingston. Shenseea is yet to respond despite clamoring from her fans.
Scores of Jada's fans, or persons who love seeing the contention between the two, have flocked to Shenseea's page, trying to goad her into making a response to Jada. Some even gave a 24-hour timeline for her to present an appropriate response to her nemesis.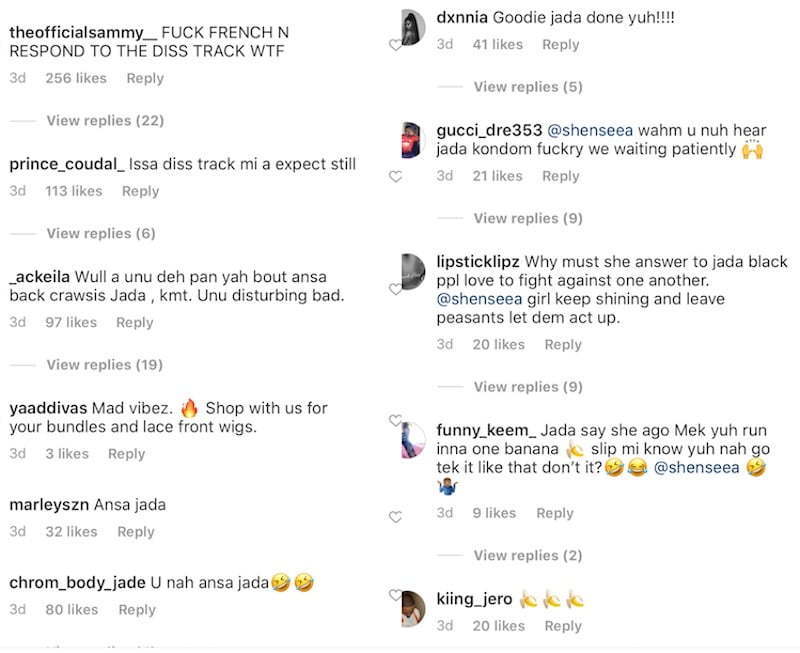 "U nah go reply gyal?" one follower wrote under an old photo Shenseea posted yesterday of herself and French Montana.
Other followers upbraided Shenseea for being a troublesome coward, claiming she had spewed disparaging lyrics about Jada's female body parts and questioning her abilities as an artiste, and failing to answer after Jada had retaliated.
"U neva waa ansa back when u start smn n wen ppl c yuh n ready fi yuh, yuh 1 bagga security dem a save yuh. Kmt. Cyaa bada wid u yaa mon. Real punk!" on woman posted, while another man noted: "Why Shenseea out here posing in pics when she got war fe go?"
But some of Shenseea's fans came to her rescue, claiming she was making 'money moves' and should continue to ignore Jada.
"Girl bus. Probably gonna do a collaboration weh hit Billboard. Y should she waste her time answer Jada? No get me wrong, me rate Jada to eno but the war not going nowhere. Money moves Shen say," one woman posted.
Even Dancehall artiste Destiny Sparta joined in on the fun, noting: "mi know u naw tek Jada lick."
Some very observant followers noted that the photograph was a very old one which was being used by Shenseea as a decoy to pull fans' attention from the fact that she was being lyrically flogged by Jada, and did not know how to respond.
"Old pic. French don't dress like that now and you don't look like that now," another male follower noted, in his ridicule of the Mona High school old girl.
"Shenseea stop tag him. Him naw post you back or comment," another woman said.