Do It For The Culture came out victors at the Red Bull Culture Clash in Kingston, Jamaica.
The crew that was led by Grammy Award-winning music producer Salaam Remi, dancehall legend Spragga Benz, chart-topping producer Jah Snowcone, media personality DJ Bambino, and popular selectors Jack Scorpio and Disco Neil came out strong and ultimately ended the night with the Red Bull Culture Clash trophy. Do It For The Culture had the audience from the very beginning. The crew was replete with famous faces and some of the best experts in their respective artistic fields.
It included a dance group led by popular dancer and coach Orville Hall and came prepared to bring the heat no matter the genre. If you thought dancehall was all they had in their pockets, you were in for a surprise. They spun dubs from Afro-beat artiste Afro-B, Grammy-nominated reggae singer Chronixx and even unveiled exclusive dubs from the great Buju Banton.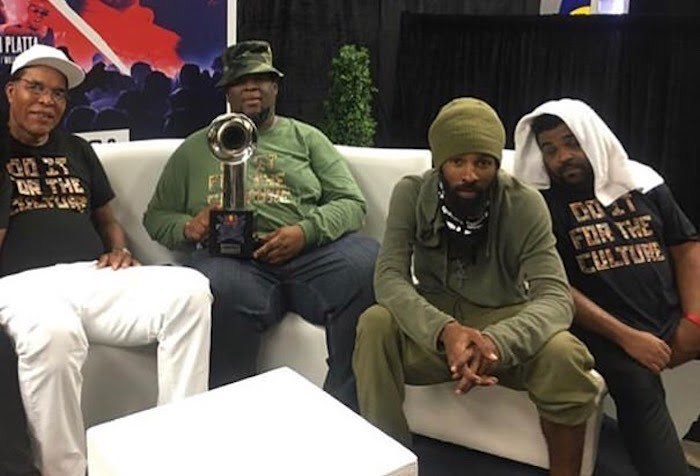 In a moment that has gone viral online, clash crew Riddimstream Platta who were primarily resorting to soca songs, cranked up the volume a bit more in later rounds when they premiered a spliced version of Shenseea's song "Blessed" that hailed Romeich Major of Romeich Entertainment the "best" at certain sexual foreplay. Though it was one of the night's most memorable moments, neither that nor the Shenseea and Jada Kingdom banter was enough to stop Do It For The Culture who intelligently invested in dubs from reggae icon Damion' Gong' Marley, legends like Supa Cat and Jimmy Cliff as well as R&B superstar Miguel.
It was clear that the victory belonged to the group of veterans who revealed that they didn't even get any rehearsal time in. "We were mixing the songs and Airdropping stuff over emails," Salaam Remi said. "We had an idea, and we kinda talked through it this morning – after recording for three or four weeks. The actual performances that happened that wasn't rehearsed at all."
The winner of Red Bull Culture Clash was evident before they even asked the audience to give their attention to the screen where they brought out visuals of the frequently-referenced Dovecot cemetery with tombstones already engraved with their competition's names. What an iconic way to obliterate the lot of them.