Did Solange cheat on her husband, Alan Ferguson?
Solange Knowles had only announced her split from husband Alan Ferguson a day ago, and already she is dealing with the savagery of the internet. In her lengthy statement released on IG, the R&B singer admitted that she is not perfect, but she is on a new spiritual path following the end of her marriage of 5 years. Solange and Alan have been dating for 11 years and have been married since 2014. The former couple often vacationed in Jamaica, and at one point, she called the island her second home.
Let's be clear, Solange did not reveal any details why she and her husband separated but hinted that they'd been apart for months now. The internet started speculating that she cheated on Alan with her former co-manager, John Bogaard. She has since addressed the rumors saying that the internet is just mean.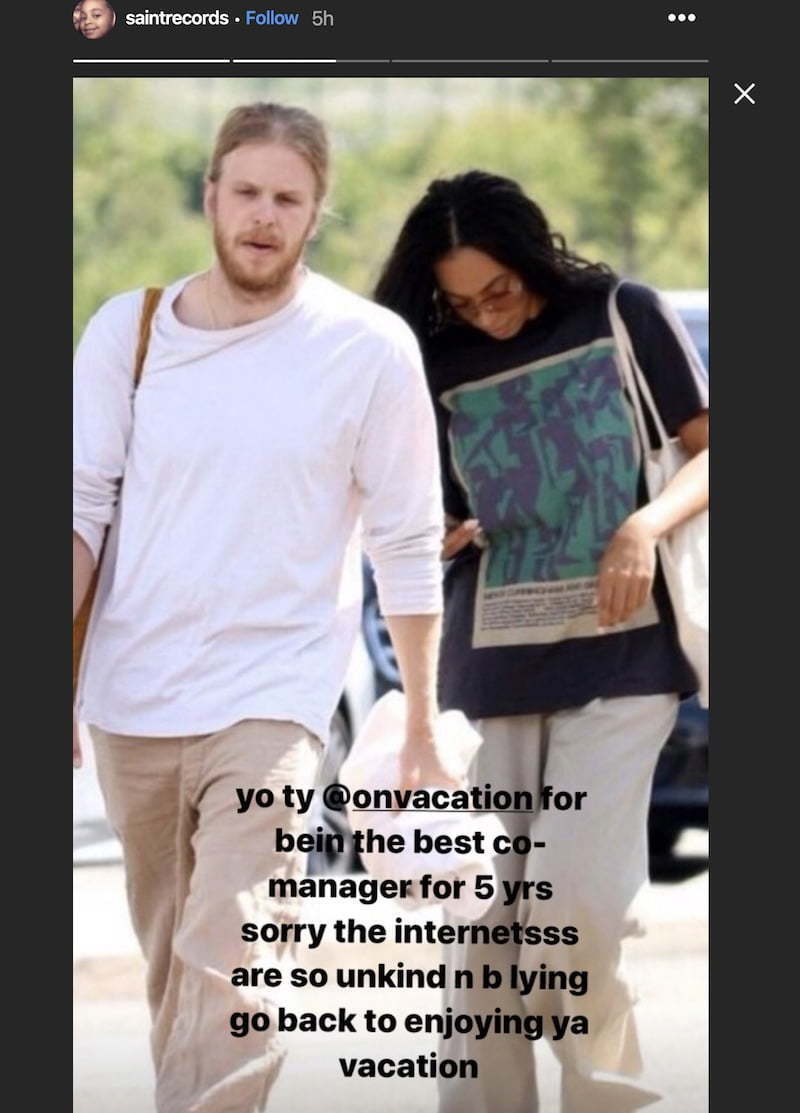 "Yo [thank you] @onvacation for being the best co-manager for 5 years sorry the internetsss are so unkind n b lying go back to enjoying ya vacation," the songstress wrote on her IG Story.
Meanwhile, over on Twitter, it's looking pretty grimy with some slanderous comments about Solange cheating on her husband with a white man. Some folks trashed her for attacking JAY-Z in an elevator for cheating on Beyonce and then turned around and allegedly cheating on her husband. A move some folks called a double standard. The problem is, this is mere speculations, and no, she did not say in her statement that she cheated on her husband.
Jay Z's nieces pulling up at Solange's crib after hearing she cheated on her husband: pic.twitter.com/ZiKFeOZ5Cx

— Tega? (@ehte_) November 2, 2019
Nah Solange cheated w a white man. I have never felt so betrayed. This is Judas x Brutus levels of back stabbing. Wow man. Wow.

— ?TheHatersBallShow?? (@_WordSmiff_) November 2, 2019
The guy Solange with isn't her man or someone she cheated with, it's her manager. pic.twitter.com/sPLJoXlJqT

— Frederick Joseph (@FredTJoseph) November 2, 2019
Solange cheated on her husband but gave Jay-z a Haitian kick for cheating on Beyoncé???? pic.twitter.com/fuJzGd9RFw

— Zoe ?????????????????????? (@YourFavoriteZoe) November 2, 2019
Solange just admitted she full of shit and cheated on a great guy then dressed it up in moons and fire signs. This shit is disgusting. pic.twitter.com/8NShRLo9Vy

— Uncle Trav (@InkpenCochran) November 2, 2019
Solange cheated??!!!! The Jay-Z beater? I want to see how you lots will shift goal posts to justify it. Wow me pic.twitter.com/pFQ150diDW

— Leo Dasilva (@SirLeoBDasilva) November 2, 2019
Nobody saw who Jay Z cheated with, nobody asked for proof, we all believed and then news filtered out that Solange cheated and then we suddenly have to travel to Bermuda Triangle to get proof

— Red Cup Evangelist (@OluwaSwizzhits) November 2, 2019