Cardi B is a Megan Thee Stallion stan even though she hasn't yet drives the boat.
It looks like Megan Thee Stallion's desire to collaborate with Cardi B might be a mutual feeling. On Wednesday (Oct 16), Netflix premiered three new episodes of the hit hip hop competition "Rhythm+Flow." Of course, the three main judges, Chance The Rapper, Cardi B and T.I. ever the entertaining lot, continue to rake in high ratings for the new show. Urban Islandz previously reported that the next slew of episodes will features exciting rap battles, cyphers and more but before any of that T.I. invited Cardi and Chance for a chat on his new "expediTIously" podcast.
The three discussed the passionate contestants along with what it really takes to make it in the competition. Cardi statistically being one of the biggest female hip-hop artistes of all time specifically touched on the subject of pushing female hip-hop artistes to where they need to be to secure a seat in the industry.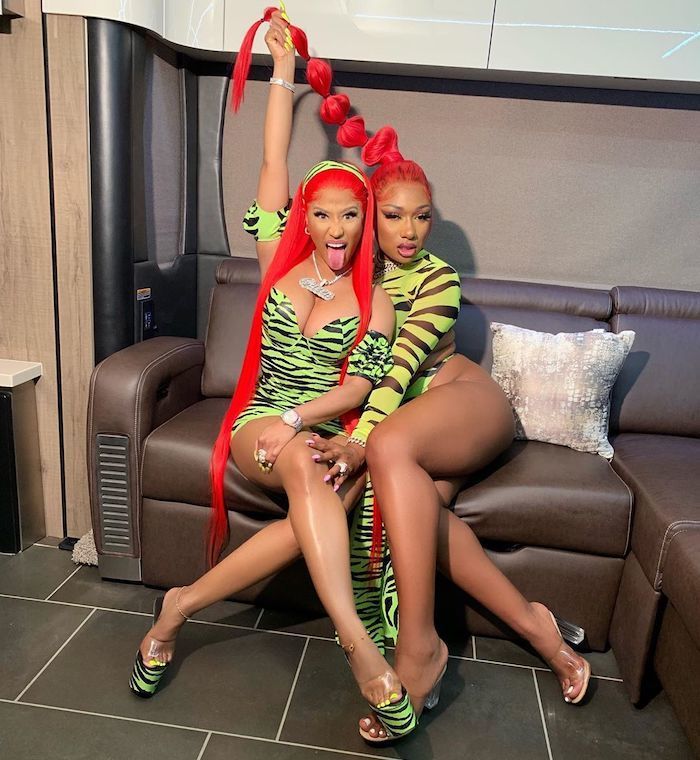 The "Bodak Yellow" rapper used herself to bring her point across, saying that there are people who would judge her in comparison to other female rappers who are in the game longer than her. However, what stands out for her is her distinct voice that resonate when fans hear her music.
Cardi continued by adding, "People always be saying in comments, 'This girl been rapping longer than Cardi. This girl raps better than Cardi. She looks good. She got the total package but she hasn't made it yet. Why not?' Maybe the girl don't have that voice that sticks," she said.
We often hear Cardi talking about having the "voice" and how, in most cases, it's the only thing that separates some artistes. While discussing it on expediTIously, she named Megan Thee Stallion as an exemplary to further illustrate her point. Megan is undoubtedly one of the biggest performances in female rap for the year 2019, both in actual numbers and appeal. The 'Hot Girl Summer' trademark owner made the final year of this decade her own. Not only did she make a statement that has influenced a whole generation, but she managed to bring home an MTV Video Music Award just a couple weeks after her hit song with one of the most successful female rappers, Nicki Minaj, was released.
"Look at Megan Thee Stallion. She got that voice that sticks," Cardi told T.I. "Not only do she rap good – a lot of girls rap good – but she got that voice and she got that confidence that sticks. So now, there's no excuse for it," the Rhythm+Flow judge established. Cardi offers high praises to Hot Girl Meg in recognition of talent, and as I mentioned, it's mutual. This is an example of what the media needs to highlight more of, females uplifting other females, whether they stay slaying in the same category or not. This is a great look.